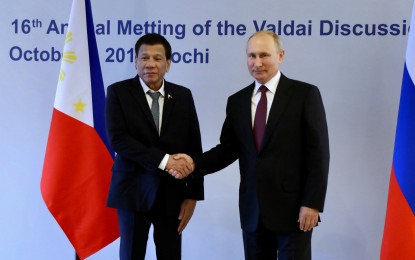 MANILA – The Philippine-Russian relations are making strides over the past few years, particularly under the leadership of President Rodrigo Duterte, marking a "dramatic reinvigoration" in several areas of cooperation, including on trade, defense, and security.
"From being at the margins of Philippine foreign policy, attention has shifted with the aim of establishing a robust, comprehensive, and mutually beneficial partnership with Russia founded on shared interests, sovereign equality, and pragmatism. Under the leadership of President Rodrigo Roa Duterte, we have seen a dramatic reinvigoration of Philippine-Russia relations," Foreign Affairs Undersecretary Elizabeth Buensuceso said in a virtual conference to celebrate the 45th anniversary of the two nations' diplomatic relations on Tuesday.
Recent years witnessed an increase in high-level engagement between the two nations, strengthening their cooperation across political, economic, and socio-cultural sectors.
In just five years, Buensuceso said, 30 agreements were signed in the fields of defense, security, military-technical cooperation, mutual legal assistance, extradition, nuclear energy, transport, higher education, intellectual property, agriculture, trade, tourism, and nuclear medicine, among others.
Their defense cooperation received a big boost under a 2017 agreement between the Department of National Defense and Russia's Ministry of Defense.
And while this deal already expanded the two nations' cooperation, she said there is still a "vast potential for collaboration" to explore, including on counter-terrorism and cyber-security, as well as combatting cyber-terrorism and drug trafficking.
On economic cooperation, Buensuceso said the total trade between Manila and Moscow 10 years ago doubled from USD486.3 million to USD862.8 million in 2020, making Russia the Philippines' 19th trading partner out of 224 countries.
Although the pandemic caused the bilateral trade turnover to shrink to less than USD1 billion in 2020, Russian Deputy Foreign Minister Igor Morgulov said this figure "cannot be considered as an adequate match to the potential we have in our economic cooperation."
On their agriculture cooperation, Manila made good progress in exporting its products to Russia, including 15 healthy, organic, and ethically harvested coconut food products.
"The Philippines now has more products in the mainstream Russian market, both under the Russian brand and under Philippine brands. The Philippines looks forward to more collaborative activities with Russia. The pandemic has not stopped us from enhancing our economic cooperation," she said.
'Vaccine, space, energy'
The Filipino diplomat said Manila is also keen on partnering with Moscow on vaccine procurement and manufacturing as the global community continues to battle the coronavirus disease 2019 (Covid-19) pandemic.
"As the virus will be with us for many years to come, in one form or another, the Philippines is interested in cooperating with Russia in localizing vaccine manufacturing," she said.
"Vaccine cooperation with Russia is not only limited to the Covid-19. The Philippines and Russia could participate in joint cooperation projects for producing vaccines for other viral diseases in the future, especially when the Virology Science and Technology Institute of the Philippines is established."
Their space cooperation is another area the two nations could collaborate in after the country established its space agency, Buensuceso said, adding Manila could learn from Russia's advanced technological know-how on space exploration.
On energy, she urged Russian companies to participate in the Philippine oil and gas exploration and development through the Philippine Conventional Energy Contracting Program.
Buensuceso said Manila and Moscow could also cooperate on the peaceful use of nuclear energy.
"As the Philippines works to enhance its energy security, Russian investments and technology can greatly contribute to diversifying our energy resources," she said.
While Philippine-Russian bilateral ties have grown significantly over the years, Buensuceso noted the "enormous potential" for further cooperation through existing bilateral consultation mechanisms.
This said, both nations must sustain the exchange of visits and exchanges between Philippine and Russian officials at all levels, she said.
Modern diplomatic relations between the Philippines and the Union of Soviet Socialist Republics (USSR) were established on June 2, 1976.
When the USSR was dissolved on Dec. 26, 1991, the responsibilities and obligations arising from bilateral agreements were assumed by the Russian Federation, which the Philippines formally recognized on Dec. 28, 1991. (PNA)