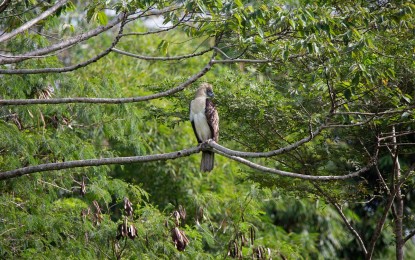 MANILA – The public can seek assistance from the Philippine National Police (PNP) and Philippine Army (PA) in rescuing Philippine Eagles (Pithecophaga jefferyi) and in apprehending individuals who violate laws that protect this endangered bird.

Department of Environment and Natural Resources (DENR) Undersecretary Edilberto Leonardo, also Biodiversity Management Bureau (BMB) OIC Director, said the PNP and PA are more than willing to help people who will provide information about distressed Philippine Eagles that they encounter or know of.
"Don't be afraid to report to them so they can act on the matter," he said Friday during a webinar that kicked off BMB's 2021 observance of the annual Philippine Eagle Week (PEW).
He noted there is a need to protect and conserve Philippine Eagles as these birds are vital in maintaining ecological balance in forest habitats within Luzon, the Visayas, and Mindanao.
"Those birds are part of the Philippine environment," he said.
Protecting and conserving such birds is a race against time and needs the cooperation of all sectors as the International Union for Conservation of Nature (IUCN) already listed the Philippine Eagle, the country's national bird, as being critically endangered.

IUCN's assessment warned about a decreasing trend in Philippine Eagle's population, noting this species had only around 180 to 500 remaining mature individuals.

Agriculture and aquaculture, energy production and mining, pollution, as well as climate change, and severe weather threaten Philippine Eagle's existence, noted IUCN.
Biological resource use through logging, wood harvesting, hunting, and trapping is also a threat, IUCN said.
Non-profit organization Philippine Eagle Foundation (PEF) reported that of the 89 eagles it rescued since the 1970s, around 26 percent had gunshot wounds while the rest were victims of trapping and poaching.
"Only 16 of the eagles that were shot were able to survive after admission," continued PEF which focuses on saving the Philippine Eagle and its habitat.
Proclamation 79 series of 1998 declared June 4 to 10 of every year as PEW to promote concerted efforts for ensuring the Philippine Eagle's protection and perpetuation.

"There is a need to instill into the minds of the Filipino people the importance of the Philippine Eagle as a biological indicator of the forest ecosystems, as a national symbol, and as a unique heritage," Proclamation 79 said.
PEW's 2021 theme is "The Philippine Eagle and Indigenous Peoples (IPs): Protecting our Forests, Protecting our Future."
The theme highlights the IPs' contribution to protecting and conserving forests and Philippine Eagles in their area.
"We're proud IPs are one with us in this endeavor," Leonardo said in a video message BMB aired during the webinar.
Most habitats of Philippine Eagles are within ancestral domains where IPs live, he noted.
Leonardo is looking forward to further collaboration between BMB, IPs and other sectors regarding the protection and conservation of the Philippine Eagle and its habitat.
"PEW reminds each and everyone of us that conservation of wildlife is every Filipino's duty," he added. (PNA)