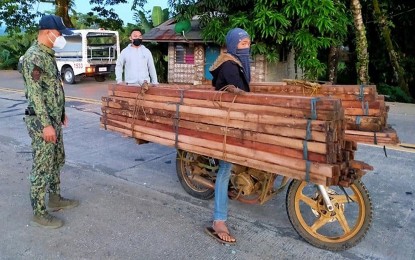 BUTUAN CITY – Six persons were arrested in separate anti-illegal logging operations by the Surigao del Sur Police Provincial Office (SDSPPO) on Sunday.
SDSPPO director, Col. James T. Goforth, in an interview with the Philippine News Agency on Monday, said a total of 1,446 board feet (bd. ft.) of illegal lumber products worth PHP30,978 were confiscated during the operations.
"These timber poachers think that our police stations are relaxed during Saturdays and Sundays. They are dead wrong. We do not put our guards down even on Saturdays, Sundays and holidays, not even during this time of the pandemic," Goforth said.
In Barangay Kauswagan in San Agustin town, operatives from the 1st Surigao del Sur Provincial Mobile Force Company apprehended Daniel Valera, 30, while transporting illegally-gathered lumber products onboard his motorcycle.
Confiscated from the suspect were 336 bd. ft. of Lawaan lumber products worth PHP7,728.
In the town of Madrid, the local police nabbed James Maca, 18, in an operation conducted in Barangay Patong-Patong following reports of illegal logging activities in the area.
Seized from Maca were 210 bd. ft. of Lawaan lumber products worth PHP5,250.
In Cantilan town, four suspects were arrested in separate operations conducted by the local police.
Jimson D. Sandaya, 26, was arrested in Purok 3, Barangay Cabangahan while transporting on his motorcycle 240 bd. ft. of Lawaan lumber products worth PHP4,800.
Three other suspects were also arrested in the same barangay for transporting without permit some 660 bd. ft. of Lawaan lumber products worth PHP13,200.
The three were identified as Edgardo Irinko, 20; Andres M. Daano, 18, and Albert V. Abaja, 22.
In a statement Monday, Police Regional Office in Caraga (PRO-13) director, Brig. Gen. Romeo M. Caramat Jr., said the police operations in Surigao del Sur stemmed from the reports of local residents on illegal logging activities in the area.
"I thank the public for their continued support to the efforts of the Philippine National Police for the protection and preservation of our forests and natural resources. As responsible stewards of the Earth, let us help one another in protecting our nature from these irresponsible individuals who are destroying it," Caramat said. (PNA)