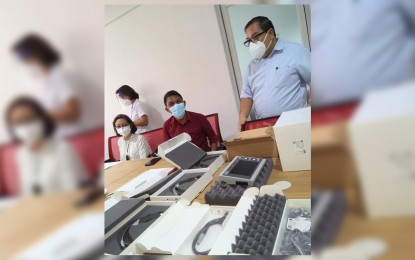 LEGAZPI CITY – Masbate is expected to receive over 25,000 doses of coronavirus disease 2019 (Covid-19) vaccines from two mining firms operating in the province, for the inoculation of workers in various local government units (LGUs).
In an interview on Friday, Marionne Ruiz, spokesperson of the Filminera Resources Corp. (FRC), said the donation would consist of 12,000 doses for the provincial government, 4,800 doses for the LGUs, 4,200 doses for national government workers based in the province, and 4,200 doses for workers in the FRC and its sister company, Phil. Gold Processing and Refining Corp. (PGPRC).
"The latest corporate social responsibility (CRS) program is the firm's resolute response to assist the province to cope with the social and economic impact caused by the health pandemic and climate-related disasters," she said.
FRC and PGPRC had allocated some PHP38 million for the purchase of vaccines.
Ruiz said of funds generated from the company's corporate social development program, PHP11.2 million was taken from FRC, PHP21.9 million from PGPRC and PHP5 million from the latter's CSR funds.
Aside from the Covid-19 vaccines, FRC will also allot funds for an ambulance unit and its needed equipment.
The mining firm earlier turned over two sets of C-MAC video laryngoscope to the Masbate Provincial Hospital to enhance the success rate in treating patients with severe Covid-19 symptoms.
At the height of the lockdown last year, the medical front-liners, as well as the police force and municipal risk reduction and management office, received two months' worth of food support through the mine site's catering services, personal protective equipment, and disinfectant materials.
A total of 21,320 families in the eight affected barangays and 33 neighboring barangays in Aroroy town received food packs.
Other municipalities in Masbate province also received from the mining firm 800 sacks (containing 50 kilos each) of rice to augment their relief food packs distribution. Medical supplies and disinfectants were also given to the Rural Health Unit of Aroroy.
Filminera is the holder of the mining tenements and environmental compliance certificate, while PGPRC, which is wholly owned by Vancouver-based gold producer B2Gold, operates the processing plant. (PNA)