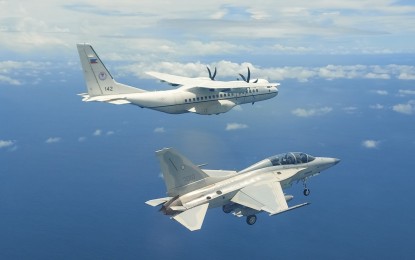 MANILA – The Philippine Air Force (PAF) conducted a "solidarity maritime patrol" over the Philippine Rise on Saturday as it joined the Northern Luzon Command in the commemoration of the country's 123rd Independence Day.
PAF spokesperson Lt. Col. Maynard Mariano on Sunday said the activity was also part of the 5th anniversary of the renaming of the Philippine Rise.
The commemoration aimed to promote marine conservation and to assert the country's sovereign rights on the feature, formerly known as the Benham Rise, located approximately 250 kilometers east of the northern coastline of Dinapigue, Isabela.
An EADS CASA C-295 medium transport and two South Korean-made FA-50PH fighter jets took part in the activity which was organized by the PAF and its Tactical Operations Wing Northern Luzon.
Aboard the transport aircraft was National Security Adviser Hermogenes Esperon, also National Task Force for the West Philippine Sea (NTF WPS) chair and NolCom chief Lt. Gen. Arnulfo Burgos along with other ranking officials.
Esperon was the guest-of-honor during Independence Day ceremonies at Clark Air Base in Angeles City, Pampanga.
"The PAF C-295 aircraft was the primary aircraft for Secretary Esperon, Lt. Gen, Arnulfo Burgos and members of the NTF WPS during the conduct of the solidarity maritime patrol," Mariano said.
He added that the event was highlighted by the escort mission by two FA-50PH fighter jets led by PAF chief Lt. Gen. Allen T. Paredes over sovereignty buoys or markers in the Philippine Rise.
"Escort mission such as in maritime patrols builds confidence and assures the Filipino people that the PAF will always be there to keep our airspace inviolable and safe for all of us," Mariano said. (PNA)