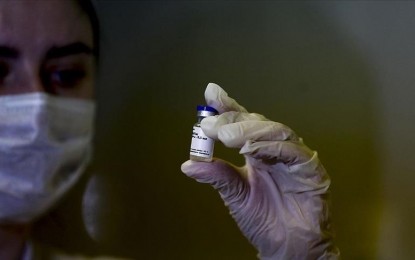 ANKARA – US pharmaceutical company Novavax said Monday its Covid-19 vaccine has an overall efficacy of 90.4 percent against the coronavirus.
Based on a study that included 29,960 participants across 119 sites in the US, the company said its two-dose vaccine demonstrated 100 percent protection against moderate and severe disease.
Against some coronavirus variants, which represented 82 percent of the cases, the vaccine efficacy was 93.2 percent, it added.
"These data show consistent, high levels of efficacy and reaffirm the ability of the vaccine to prevent Covid-19 amid ongoing genetic evolution of the virus," Gregory M. Glenn, M.D., the president of Novavax's Research and Development, said in a statement.
The company said it plans to file for regulatory authorizations of the vaccine in the third quarter of this year.
It estimates to reach a manufacturing capacity of 100 million doses per month by the end of the third quarter, and 150 million doses per month by the end of the fourth quarter of 2021.
Novavax joins other American pharmaceuticals – Pfizer-BioNTech, Moderna, and Johnson & Johnson – that provide vaccines for the US population.
More than 374 million doses have been distributed in the US with more than 309 million administered as of early Sunday.
So far, 143.9 million people, or 43.4 percent of the population, have received two doses, according to figures from the US Centers for Disease Control and Prevention.
An excess of 33.4 million cases has been recorded in the US since the start of the pandemic with almost 600,000 deaths, according to Johns Hopkins University.
Global cases stand at 176 million, while more than 3.8 million have lost their lives. (Anadolu)