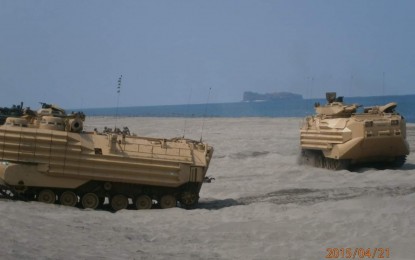 MANILA – The United States government welcomed on Tuesday President Rodrigo Duterte's decision to postpone the termination of the Visiting Forces Agreement (VFA) for six more months.
In a statement sent to reporters, the US Embassy in Manila said, "Our alliance continues to contribute not only to the security of our two nations but also strengthens the rules-based order that benefits all nations in the Indo-Pacific."
The suspension was extended while Duterte studies and both sides further address his concerns regarding particular aspects of the accord.
Foreign Affairs Secretary Teodoro Locsin Jr., who announced the Chief Executive's decision on Monday night, however, did not elaborate what specific aspects of the deal are being studied.
The VFA, established in 1999, provides a framework for defense forces cooperation that allows joint exercises between the Philippines and the US.
In February 2020, Duterte notified the US that the Philippines would formally terminate the agreement.
Following the coronavirus outbreak, the government in June 2020 suspended the abrogation for six months.
It was postponed for the second time in November 2020 to allow both nations "to find a more enhanced, mutually beneficial, mutually agreeable, and more effective and lasting arrangement on how to move forward in our mutual defense." (PNA)