MANILA – Deaths due to the coronavirus continue to decline this month, the Department of Health (DOH) on Tuesday said.
In an online media briefing, DOH Epidemiology OIC-Director Alethea de Guzman said the mortality curve peaked in April with 3,563 total deaths and 119 average deaths per day. In May, it went down with 3,000 total deaths and 97 average deaths per day.
"We have reported 720 deaths. We're halfway through the month, this is much less than the 3,000 [deaths] reported in May but we want to push it down even more…we correlate this to enough beds in ICU," she said during an online briefing.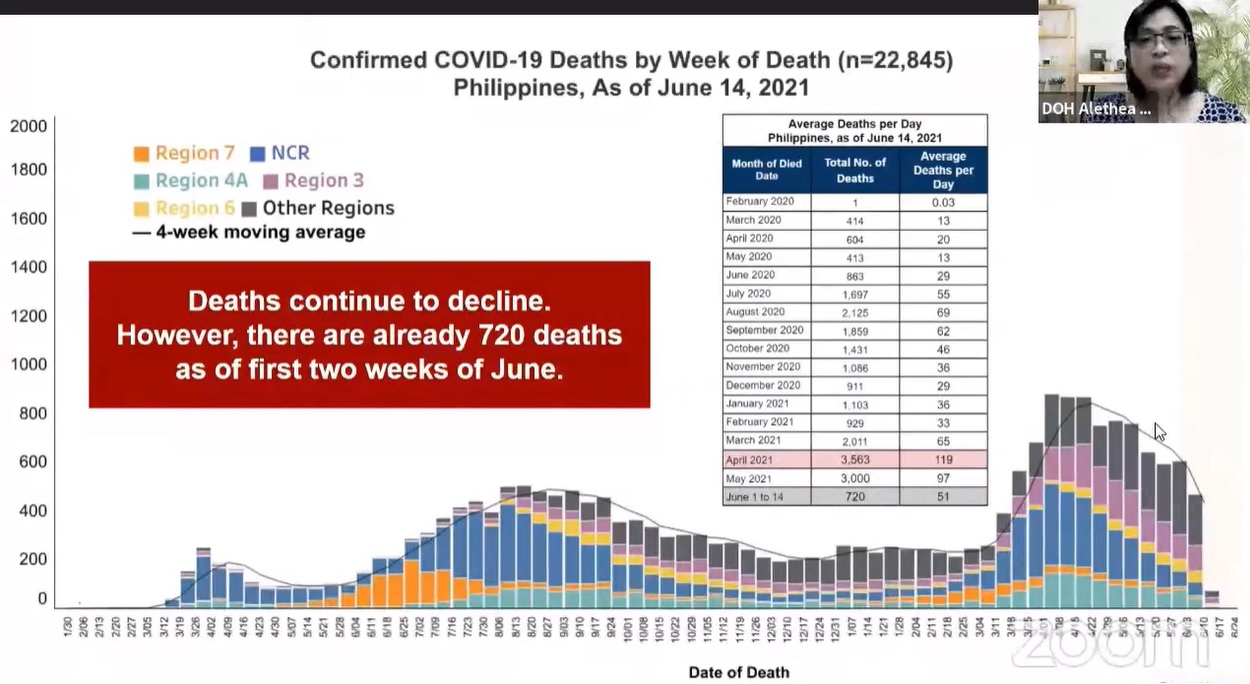 The decline of Covid-19 cases across the country has stalled and the current downtrend remains "fragile" due to minor uptick of infections in some areas the previous month, she added.
A slow decline was noted in the National Capital Region after a minor bump in the trend while the so-called NCR Plus areas -- the provinces of Batangas, Laguna, Cavite and Rizal-- have a less consistent case pattern.
"Though we're seeing some improvement in the Luzon and Mindanao areas, it hasn't significantly gone down after that initial rise and then while Visayas doesn't have the same number of cases as Mindanao or the rest of Luzon, we can see over the last week that it has the fastest increase in cases," de Guzman said.
Data from June 7 to 13 showed that the nation's average daily reported cases is 6,609 – higher than that of May 31 to June 6 at 6,558.
De Guzman noted that the country's severe and critical cases are at 3.06 percent while the cumulative case fatality rate is at 1.73 percent.
As of June 14, the top five regions with the most number of new cases include Region 4-A (Calabarzon) with 940; NCR, 832; Region 6, 683; Region 3, 552; and Region 11 with 536.
Meanwhile, the top five areas with the most number of new cases are Laguna with 337; Davao City, 300; Batangas, 191; Cavite, 188; and South Cotabato,173.
"Case increase seen nationally is at 15-percent growth and slight increase in ADAR [average daily attack rate] in comparison to what we have reported three to four weeks ago. Currently, tayo ay naka-moderate risk pa nationally pero sa pagdami ng kaso tumataas ang ating ADAR na ngayon nasa (we're at moderate risk nationally but with the increase in cases our ADAR now is at) 5.96," de Guzman said.
She added the three regions which were classified as high risk based on their case data on newly reported infections are Region 2, Caraga, and Region 6.
There are 36 priority areas which the DOH flagged due to their high risk ADAR, high risk provincial health care utilization and high risk or critical provincial intensive care unit utilization.
"About 20 of these priority regions are coming from our Visayas and Mindanao regions," De Guzman said.
They are Cagayan, Nueva Vizcaya, Isabela, Zambales, Bataan, Naga City, Albay, Sorsogon, Iloilo City, Capiz, Iloilo, Guimaras, Antique, Negros Oriental, Zamboanga del Norte, Zamboanga del Sur, Cagayan de Oro City, Misamis Occidental, Bukidnon, Davao City, Davao del Norte, Davao de Oro, Davao Occidental, South Cotabato City, General Santos City, Lucena City, Laguna, Quezon, Oriental Mindoro, Cotabato City, Butuan City, Surigao del Norte, City of San Juan and City of Makati.
To address the increase in cases in areas with recorded surges, the DOH has recommended to the Regional Task Force and Regional Inter-Agency Task Force granular lockdowns following standard protocols.
"We've always been emphasizing the need to decrease the interval between detection and isolation with an initial target of less than five days," de Guzman said.
"Continue augmenting health and critical care, especially in provinces and at the level of our local government units is a very good triage system and hopefully One Covid Referral Center there," she added. (PNA)