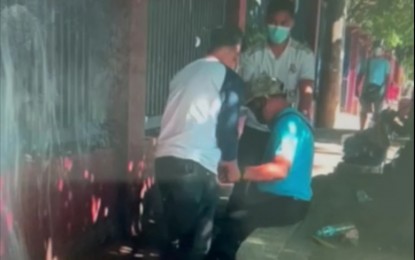 MANILA – A fixer was arrested in an entrapment operation near the Land Transportation Office (LTO) in Quezon City on Tuesday.
Randy Albor reportedly charged at least PHP4,500 in exchange for faster issuance of a driver's license from an Anti-Red Tape Authority (ARTA) official who posed as a client applying for renewal.
Upon payment, the fixer was able to facilitate the release inside LTO within two hours.
If the license is proven authentic, ARTA director-general Jeremiah Belgica said the suspect along with his accomplices will face charges for violation of Republic Act 11032 or the Ease of Doing Business and Efficient Government Service Delivery Act of 2018 Section 21.
ARTA set up the entrapment operation with elements of the Criminal Investigation and Detection Group-Regional Field Unit-National Capital Region upon receiving several tips that fixers are frequenting the area.
ARTA earlier conducted surveillance operations outside the LTO headquarters to verify the complaints they receive about fixers in the area.
Upon confirmation, Undersecretary BGen. Carlos Quita (Ret), ARTA Deputy Director-General for Administration and Finance, volunteered to renew his license to lead the fixers in an entrapment operation.
Quita posed as a broker when he went to the LTO to get his license renewed. Albor then offered his services.
He said they breezed through the medical examination. Even more surprising, his overpriced license was made inside the LTO headquarters.
Secretary Jeremiah Belgica, ARTA Director-General, trooped to LTO office and placed posters at the cafeteria outside LTO, which is said to be a hotspot for fixers, and at the LTO Headquarters' Public Assistance Area to remind the public that fixing should not be tolerated.
"Nakikiusap din ako, actually, sa mga taong bayan. Huwag po natin kunsintehin ang mga fixers kasi ang korapsyon is a two-way street, eh," he said in an interview. "Sitahin niyo, paalisin ninyo kung mayroong ganyan, otherwise, madadamay sila."
"This is an ongoing effort of ARTA together with the different government agencies to eliminate red tape and strengthen efforts to stop the fixers," he told reporters in an interview at LTO.
Belgica personally delivered the processed license to LTO assistant secretary Edgar Galvante, who vowed to conduct an immediate investigation to find out whether some LTO staff are involved.
Galvante, for his part, asked the public to refrain from engaging the services of suspicious and unauthorized entities offering such services to avoid paying higher fees than necessary and the risk of getting fake documents.
LTO Assistant Secretary Edgar Galvante echoed the ARTA czar's sentiment and requested to turn over Quita's license to verify if it is legitimate.
Galvante said it would be difficult for fixers to copy the numerous security features in a legitimate driver's license.
He also warned those patronizing fixers that a fake driver's license does not have any benefit to them.
"Anong tulong na maibibigay sakanila ng isang fake na license? Wala silang ano ron, 'di ba, walang benefit na makukuha ron," he said.
He added that, although the office is not at full capacity in terms of workforce, there is no need for fixers because they can address the need of everyone going to LTO.
Belgica, meanwhile, urged nearby establishments or restaurants to turn away fixers who are using their places for transactions.
He reminded the public to use the Citizen's Charter posted at various government agencies as a guide for their transactions.
He also urged them of the 3-7-20 rule – three days processing time for simple transactions, seven days for complex transactions, and 20 days for highly technical transactions.
Albor will be charged with violation of Republic Act No. 11032 or the Ease of Doing Business and Efficient Government Service Delivery Act of 2018. He is now under custody of the CIDG. He will be undergoing inquest proceedings on June 16.
LTO committed to conduct further investigation on the incident while ARTA will also conduct its own probe. (with PR)