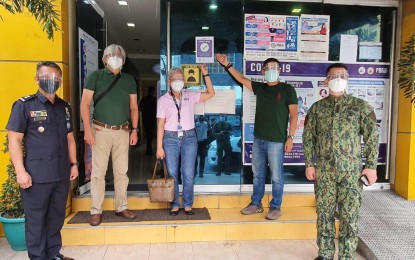 MANILA – Barangay San Antonio was the first among 30 barangays in Pasig to receive the safety seal from the Department of the Interior and Local Government (DILG) for complying with the government-mandated safety and health protocols against Covid-19.
Raymond Lising, chairman of Barangay San Antonio, welcomed this latest development stressing that health and safety of residents is of paramount importance.
"The Safety Seal from the DILG definitely assures our residents that Barangay San Antonio, Pasig is compliant with the safety and health protocols, and that, we ourselves practice what we preach," Lising said in a news release on Sunday. "It will give them peace of mind when they visit the barangay hall to do their transactions."
The barangay hall was inspected by the DILG recently and was given the safety seal the same day.
The DILG said they found the barangay 100 percent compliant with all of the government's minimum safety and health protocols in the workplace.
"The pandemic is still not over. We must always wear face masks and other similar protective equipment. We should also practice social distancing at all times to ensure our own safety and the safety of others," he said.
Lising said Barangay San Antonio installed protective barriers, body temperature checks, hand sanitizing stations, air purifiers, and other safety equipment to ensure the safety of all who work and those who visit the barangay hall.
The safety seal program is an inter-agency effort among the DILG, Department of Health (DOH), Department of Trade and Industry (DTI), Department of Tourism (DOT), and Department of Labor and Employment (DOLE).
It grants establishments a safety seal to be displayed indicating that the building or establishment they are entering is compliant with health protocols against Covid-19.
According to Interior Secretary Eduardo Año, the DILG and local governments will inspect buildings to grant safety seal and ensure that all establishments, private and public, are adhering to minimum health and safety standards and are using the StaySafe.ph as their contribution in fighting the coronavirus pandemic.
This initiative is part of the government's efforts to stop the surge of Covid-19 and assure the people that the said establishment is safe, he said. (PR)