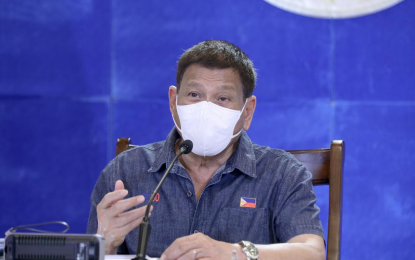 MANILA – The "small inconvenience" of wearing face shields is a "small price to pay" to prevent impending "disaster" caused by new coronavirus strains, President Rodrigo Duterte said on Monday.
Duterte defended his decision to retain the mandatory face shield policy, citing the need to be more cautious over the highly infectious Delta coronavirus variant (B1617) first discovered in India.
The Philippines, he said, could not afford another coronavirus wave as it would take a toll on the country's economy.
He also cited reports that the new coronavirus strain could be resistant to some Covid-19 vaccines.
"I will apologize to the Filipino people that this thing was being discussed openly and many thought that we were ready to do away with the face [shields]. But with the kind of aggressive infection that poses a very grave danger to…it's a small inconvenience, actually. I know that it is inconvenient really to be wearing the mask, adjusting it from time to time. But that is only a very small price to pay than rather gamble with doing away with it and courting disaster," Duterte said in a meeting with members of the Inter-Agency Task Force for the Management of Emerging Infectious Diseases (IATF-EID), some Cabinet members, and medical experts.
His decision to retain the mandatory face shield policy came following health experts' recommendation to "triple" precautions against the Delta coronavirus strain.
"As of now, the face [shield] is on...It is to the national interest that we must triple our effort because I said we do not know if it would require a new vaccine which has to be invented first. Second, we cannot afford a second wave because it might be far worse than the first and then we will have a problem with the economy and as I said it would be disaster for the country," he added.
He also clarified that he never said with finality that he would lift the mandatory wearing of face shields.
Last week, Senate President Vicente Sotto III said Duterte has agreed that the public should only be required to wear a face shield when they go to hospitals.
The IATF-EID, however, appealed to keep the rule on the use of face shields in enclosed public spaces such as commercial establishments, malls, and public transportation.
"When I mention about the face shield, I was only shooting the breeze with the members of the Congress who were there. I never said with finality that we will do away with the face shield," Duterte said.
Duterte insisted that when it comes to Covid-19 prevention, "the stricter you are, the better."
"I'm constrained really to go back to the old practice because of this danger posed by the Delta coronavirus variant," he said.
In the same meeting, Dr. Anna Ong-Lim of the University of the Philippines College of Medicine said there are studies that the use face shields, along with the use of face masks and physical distancing, can reduce risk of Covid-19 infection.
"Sabi po ng authors, siyempre po wala pong nag-iisang intervention na puwede pong magbigay ng buong protection, but of course pag pinagsasama-sama po natin 'to, nakakatulong (The authors say that of course there is no single intervention that can give full protection, but of course if you combine all of this, it could help). And this is what we advise in our minimum public health standards as necessary for mitigation of transmission of Covid-19)," Ong-Lim said.
In December 2020, the IATF-EID mandated the wearing of both face shields and face masks outside residences. (PNA)