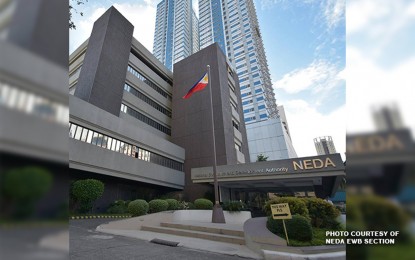 MANILA – The government's economic recovery package must be accelerated to support businesses and enable them to retain or employ new workers, the National Economic and Development Authority (NEDA) said.
"Our recovery program has been in place since last year and implementing this will help the economy recover and businesses to get back to their feet," Socioeconomic Planning Secretary Karl Kendrick Chua said during the 42nd National Conference of Employers on Wednesday.
Speaking before employers from over 100 different companies on the government's strategic policy adjustments for economic recovery, Chua shared that the implementation of the economic recovery package is the second component of the three-pillar strategy to facilitate the economy's recovery by 6 to 7 percent in 2021 and return to pre-pandemic levels by 2022.
The recovery package consists of a combination of fiscal, monetary, and financial instruments totaling about PHP2.8 trillion, or 15.4 percent of the country's gross domestic product.
Specific reforms include recently enacted Corporate Recovery and Tax Incentives for Enterprises or CREATE Act, which provides the largest-ever fiscal stimulus package for micro, small and medium enterprises (MSMEs) in recent history, through a 5 or 10 percentage-point reduction in the regular corporate income tax rate.
Meanwhile, the Financial Institutions Strategic Transfer or FIST Act will allow financial institutions to dispose of non-performing loans and assets to address liquidity concerns of firms.
Apart from implementing the recovery package, the two other pillars to enable the country's recovery are the safe reopening of the economy to modified community quarantine or MGCQ, or better, at the appropriate time; and the timely implementation of the vaccination program.
"The data shows that employment responds very well to the level of quarantine. When we further reopened the economy, unemployment in the National Capital Region (NCR) went down. But when we reverted back to the enhanced community quarantine (ECQ), it went back up. So, we have seen that the people will find employment if we allow them to do so," Chua said.
He said vaccination of the A4 priority group of workers is moving quickly and will continue to ramp up once an additional 17 million doses arrive in the next six weeks. This must be sustained to instill confidence among workers and consumers and safely reopen the economy.
"Hopefully, we can vaccinate as many workers as we can in the next few months. If workers are vaccinated, then they bring home much less risk to their family members. I have been a strong advocate of not only LGU but business or organization-based vaccination centers," Chua added.
In addition, the NEDA chief presented updates on the Philippine Identification System (PhilSys) or National ID program. As of June 10, 2021, over 36 million Filipinos have completed the initial step to register.
In response to a question from the audience, Chua said the Philippine Statistics Authority may assist employers by hosting PhilSys registrations in their respective offices. (PR)