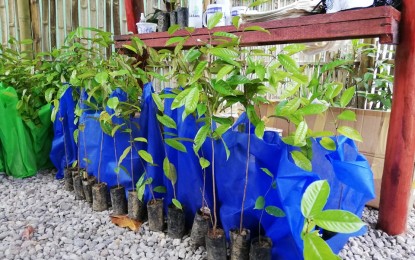 TACLOBAN CITY – The Department of Environment and Natural Resources (DENR) in Eastern Visayas has renewed its call to the public to plant trees as the country celebrates the Philippine Arbor Day on June 25.
DENR regional public affairs office chief Maita Reina Sucgang said on Thursday the public should take part in promoting a healthier ecosystem through the rehabilitation and re-greening of the environment.
"We have been encouraging people to plant native trees since it helps recover and expand forest habitats for threatened native species of plants and animals," she said.
On the same day, the DENR regional public affairs office led the distribution of 600 Yakal tree seedlings for free to walk-in clients of the Community Environment and Natural Resources Office in Palo, Leyte.
Clients were asked to watch a nature conservation video, get free seedling, and some freebies.
"We asked them to write down the area where they will plant the tree for us to be able to monitor its growth," Sucgang added.
Yakal is a medium to a large tree about 25 to 30 meters tall. Its wood is hard and dark brownish-yellow, its branchlets slender, blackish, and slightly hairy.
Proclamation No. 643 signed in 2004 declared every June 25 as Philippine Arbor Day to be observed throughout the nation by planting trees and ornamental plants.
In 2012, Republic Act No. 10176 or the Arbor Day Act was enacted into law, mandating local government units to designate a day of the year to observe Arbor Day and to allocate a budget for an annual tree planting activity.
The law also requires local officials to create an Arbor Day celebrations committee which will specify the area within the local government unit where the tree planting or reforestation activity will be performed. (PNA)