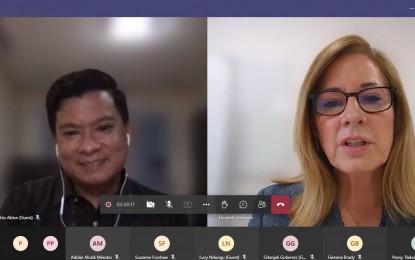 MANILA – The Presidential Communications Operations Office (PCOO), through its Freedom of Information–Project Management Office (FOI-PMO), participated and presented in the two-day closed session of the 12th International Conference for Information Commissioners (ICIC) held virtually last June 23-24, 2021.
PCOO Undersecretary Kristian Ablan represented the Philippines as head of the authority of the Freedom of Information-Project Management Office (FOI-PMO) in the country.
The ICIC Governance Working Group and Secretariat under the United Kingdom Information Commissioner's Office (ICO) led the two-day closed session, which was held virtually via MS Teams.
The ICIC member countries approved and adopted two resolutions during the closed session. Regional updates from other FOI counterparts were also showcased to recognize the best practices and innovations in the field of access to information.
Ablan presented the Philippines' progress and accomplishments, highlighting the extensive efforts of the FOI-PMO in its communication and capacity-building endeavors.
"Over the past years, our team has increasingly focused on the need to meaningfully engage with our primary clients and other stakeholders as we implement the FOI Program," Ablan said during the regional update session.
"We strive to build the capacities of FOI Officers of various government agencies, local chief executives and staff of local government units, librarians, and representatives from civil society organizations and other institutions; we try to bring the FOI Program closer to the public for maximum engagement," Ablan added.
He said the ICIC's accreditation of FOI-PMO as a member in February 2020 is significant since it allows the FOI-PMO to engage in promoting access to information in a global community.
There are now 64 accredited ICIC members globally. The Philippines, represented by the Presidential Communications Operations Office's FOI-PMO, is one of the six Asian nations certified by the ICIC and the only Southeast Asian country member thus far.
ICIC is a permanent and worldwide network of information commissioners, ombudspersons, and proponents of access to information. (PR)