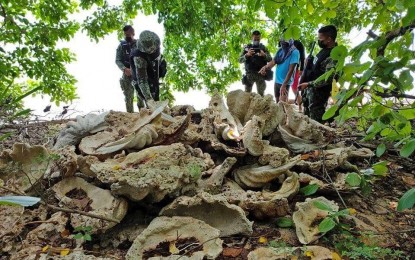 MANILA – Authorities seized about 15 tons of fossilized giant clam shells, known locally as "taklobo", in a joint maritime law enforcement operation in Palawan earlier this week.
In a Facebook post on Thursday, the Philippine Coast Guard (PCG) said the giant clam shells, valued at about PHP250 million, were found at the King's Paradise Island Resort in Barangay Panitian in the town of Sofronio Española on Monday.
"The suspects were identified as Eulogio Josos Togonon, Totong Josos, Nonoy Guliman, and Vilmor Pajardo – all residents of Barangay Iraray, Sofronio Espaniola, Palawan. However, only Togonon was apprehended during the operations," the PCG said.
The local government of Barangay Panitian took custody of the confiscated giant clam shells while the arrested suspect was brought to the Palawan Council for Sustainable Development (PCSD) for inquest proceedings and filing of charges.
It said the suspect was informed that he violated Section 27 of Republic Act (RA) 9147 or the "Wildlife Resources Conservation and Protection Act".
The joint law enforcement operation was undertaken by the PCG Intelligence Group - Palawan, PCG Station Brooke's Point, DF-332, Naval Intelligence and Security Group - West, PCSD, and the Philippine National Police - Maritime Group.
According to the Bureau of Fisheries and Aquatic Resources, the selling of giant clams (Tridacna gigas) is prohibited under RA 10654 or "An Act to Prevent, Deter and Eliminate Illegal, Unreported and Unregulated Fishing" that amended RA 8550 or "The Philippine Fisheries of 1998".
The giant clam is considered one of the most endangered clam species in the world. It fills the role of filter feeders that clean pollutants from the water as they ingest algae or plankton. (PNA)