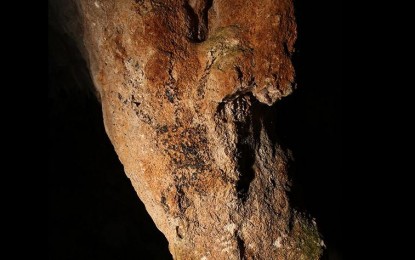 TUGUEGARAO CITY – A directly-dated rock art created 3,500 years ago and found at the Callao Caves in Peñablanca town is believed to help answer queries on folk migration in Cagayan, archaeologists said.
Dr. Andrea Jalandoni, who heads the Griffith University's Place, Evolution and Rock Art Heritage Unit, on Tuesday said dated samples from the art rock were taken last year from a black pigment human figure, which was found in Hermoso Tuliao Cave, one of the about 19 included in the Callao Caves.
Jalandoni, together with Jennifer Baquiran, Cagayan provincial tourism officer, and Noel Hidalgo Tan, a senior specialist in Archaeology of the Southeast Asian Regional Centre for Archaeology and Fine Arts in Bangkok, Thailand, spoke in a virtual media briefing.
Jalandoni, who is the lead author of a paper entitled "First Directly Dated Rock Art in Southeast Asia and The Archaeological Implications," said the first-time art rock discovery was earlier published in the Radiocarbon Journal and uncovers a timeline in the human activities at that time such as foraging in Eme and Arku Caves and pottery in the Callao Caves.
Untapped potential for dating similar charcoal rock art figures shows a "holistic view" of the early folks in the countryside, she added.
The rock art was believed to have been created by either early Austronesians, who arrived around 4,000 years ago, or the Agta Negritos who migrated during the Ice Age, Jalandoni said. The groups still live in the area, "so more rock art needs to be dated to determine its origin," she noted.
"The (3,500 years) date is older than anyone expected it. The discovery marks the beginning of the direct rock art dating revolution in Southeast Asia. Hopefully, this will lead to a better appreciation and more protection for this significant cultural heritage in the Philippines," Jalandoni told the Philippine News Agency in a virtual interview.
Direct dating rock art involves a process whereby the paint material from the artwork itself is dated, rather than the materials around or on top of the artwork, she explained.
"The black pigment human figure forms part of a gallery of paintings with two other human figures, and a few leaf and circle motifs. Similar motifs have been found in other places in Southeast Asia," she added.
Tan said black rock art is more recent because it is placed over red art, or because the subjects depicted are quite modern.
The new finding has prompted archaeologists to be more cautious about attributing black rock art as "recent" and to do direct dating for more rock art sites in the region, he added.
Earlier, archeologists and historians predicted that more fossils of unique animal species are expected to be unearthed after the discovery of three erstwhile unknown species of giant cloud rat fossils, locally known as "buot", in Callao Caves.
Baquiran said more fossils are expected to be dug after those of extinct mammals have earlier been discovered in Callao such as an endemic deer, a giant hog, dwarf water buffalo, rhinoceros and other species.
These species include those fossils of Homo luzonensis, believed to be the first species of people in the area some 50,000 to 67,000 years ago.
Fossils of archaic humans, that lived during the Late Pleistocene were first discovered in the cave and documented in 2007 by a team led by UP's Armand Mijares and reaffirmed with the discovery of now-extinct human sub-species, Calla, according to studies.
Scientists describe a cache of seven teeth and six bones from the feet, hands and thigh of at least three individuals. They were recovered from Callao Cave in the northern town of Peñablanca in Cagayan province in 2007, 2011, and 2015. Tests on two samples show minimum ages of 50,000 years and 67,000 years, research showed.
Since the 1970s, archaeological diggings have been conducted in Cagayan. Most fossils were unearthed way back in 1979, 2011, and 2019 and were compared to the discoveries from other studies abroad.
The province's museum, which received replicas of the artifacts from the National Museum with national significance, would also get a replica of the extinct giant cloud rat's fossil later, Baquiran said.
"The Callao caves resemble a rich biodiversity in the province," she added, noting that Filipino and American archaeologists have been initiating diggings to find more fossil remains inside caves in Luzon. (PNA)