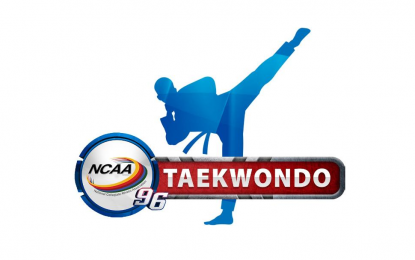 MANILA – Student-athletes from the 10 member schools of the National Collegiate Athletic Association (NCAA) shone brightly as the "Rise Up Stronger: NCAA Season 96" officially wrapped up its virtual taekwondo competition.
Together with its official broadcast partner GMA Network, the NCAA kicked off the extraordinary Season 96 last June in a courageous step to adapt to the new normal.
Held from June 14 to July 5, this season's taekwondo events included poomsae standard, poomsae freestyle, speed kicking juniors, speed kicking women's, and speed kicking men's.
CSB rules speed kicking event
The De La Salle-College of Saint Benilde (CSB) emerged as the overall champion of the speed-kicking event in the men's and women's divisions.
In the men's Division, CSB amassed a total of five gold medals courtesy of Ivan Murray Solimen (finweight division); Laurence Scott Santiago (featherweight); Mikko Michael Regala (welterweight); Matthew Cloyd Roxas (light middleweight); and Josemari Aiko Ong (heavyweight).
The CSB jins continued to dominate the speed-kicking tournament with four of its players topping their various classes in the Women's category: Krizelle Therese Yadao (flyweight); Loralee Natividad (welterweight); Anne Christine Obenza (middleweight); and Lucille Cunanan (heavyweight).
Also taking home gold medals in the men's division were San Beda University's Jack Janggo Natividad (flyweight) and Christian Neil Arches (lightweight); as well as Arellano University's Stanley Roy Laguio (bantamweight).
Scoring their respective golds in the Women's Division were Jose Rizal University's Emie Fernandez (finweight); San Beda University's Princess Angel Doria (bantamweight); San Sebastian College-Recoletos' Liza Leslie (featherweight); and Arellano University's Paulene Gaye Rey (lightweight).
San Beda shines in speed kicking juniors category
Meanwhile, San Beda University was a big winner in the speed-kicking juniors division after bagging three gold medals. Topping their foes in their respective divisions were San Beda's Ignatius Vicente Lorenzo Pinera (bantamweight); Philip Joshua Lee (lightweight); and Louell Ivannerich Mamaclay (light middleweight).
Taking home gold medals as well were CSB-La Salle Greenhills jins Victor Emmanuel Rodriguez and Raphael Ongkiko who ruled the welterweight category and middle/light heavyweight division, respectively.
Champions in their weight class as well were Lyceum of the Philippines University's John Patrick Moneda (fin/flyweight); Colegio de San Juan de Letran's Luke Morel (featherweight); and Arrellano University's Joshua Lyndon Dionio (heavyweight).
Juniors pomsae standard
Shining bright in the juniors poomsae standard and poomsae freestyle event was Emilio Aguinaldo College (EAC). EAC's John Vergel Reyes snagged the gold medal in poomsae standard ⁶juniors while John Mc Leary Ornido won in the poomsae freestyle standard juniors.
Topping the women's and men's divisions in the poomsae standard were Jose Rizal University's Emie Fernandez and San Beda University's Alfritz Victoria Arevalo.
Meanwhile, De La Salle-College of St. Benilde's Krizelle Therese Yadao and San Beda University's Michael Christian Macario were named champions in the freestyle standard women's division and freestyle standard men's division, respectively.
Chess competition kicks off
Last July 6, the NCAA formally opened the Season 96 Chess competition.
For this season, all chess games will be done via knockout games, with the next round being the Round of 16, followed by the quarterfinals round and the semifinals. Those who will win in the semis round advance to the finals while losing players battle it out for the third place.
Meanwhile, the first part of the "Rise Up Stronger: Most Valuable Performer Grand Finale" was aired on July 9. Talented alumni finalists from EAC and Arellano University were judged by comedian Tuesday Vargas and Kapuso actress Rhian Ramos.
On July 10, the 16 players in the chess juniors division competed for a slot in the NCAA Season 96 quarterfinals. NCAA fans also got to know the NCAA Hotshots John Barba and Joana Marie Ong from Lyceum of the Philippines.
The chess juniors division competition commences with the quarterfinals round beginning July 12, with semi-finals slated on July 15 and the Finals scheduled on July 17.
Catch "Rise Up Stronger: NCAA Season 96" on GTV weekdays at 3 p.m. (with replays weeknights at 10:50 p.m.), Saturdays at 4:30 p.m., and Sundays at 5:05 p.m. Meanwhile, Kapuso abroad can6 catch all the action via GMA Pinoy TV and GMA News TV. Visit NCAA Philippines' official website www.ncaa.com.ph and follow @ncaaphilippines and @gmasynergy on social media. (PR)