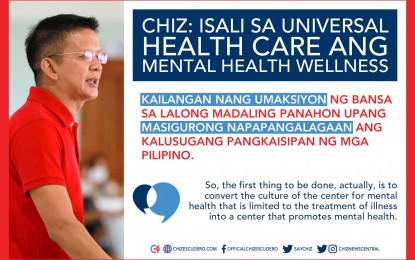 LEGAZPI CITY – Sorsogon Governor Francis Escudero is pushing for the inclusion of mental health and wellness in the coverage of the Universal Health Care (UHC).
In a statement on Tuesday, Escudero underscored the need for the government to strongly support the promotion of mental health due to the alarming rise in mental health-related cases in the country during the coronavirus disease 2019 (Covid-19) pandemic.
According to the former senator, the country has to act with urgency to ensure that the citizenry's mental health and well-being are properly taken care of and addressed.
"The Philippines has a long way to go… In fact, the National Center for Mental Health (NCMH) is just known as 'lalagyanan ng mga baliw (facility where mentally ill persons are treated).' It only treats pero wala siyang (there is no) facility talaga that promotes mental health, which is needed," he said. "So the first thing to be done actually is to convert the culture of the center for mental health that is limited to the treatment of illness into a center that promotes mental health".
Escudero wants to actively push this advocacy as he has seen firsthand how his celebrity wife Heart Evangelista struggled with mental health issues two years ago.
The two-time senator said he is proud of his wife for openly talking about her experience to encourage other people to seek help and get the proper treatment.
Evangelista, who has 8.5 million followers on Instagram alone, was quoted in the statement as saying, "Well, I sort of advocate it because I suffered a lot from depression and anxiety. So I really try to open the conversation with a lot of people and I think that's very important to help raise awareness on the issue. It helps that people won't be ashamed to talk about it because it's really important to talk about it."
Escudero said a lot of work has to be done to improve the system. "This includes a change in the orientation of 'help' to include psychological treatment kasi hindi siya kasama sa PhilHealth (that is not included in PhilHealth)," he said.
He also expressed hope that the "telemed" services under the UHC called "Konsultasyong Sulit at Tama" (KONSULTA), which is set to be implemented in Sorsogon this month in partnership with the Philippine Health Insurance Corporation (PhilHealth), will consider providing consultations on mental health-related issues.
"So maraming mga hakbang na kailangan gawin, pero ang unang hakbang, sabi nga ni Heart, dapat hindi mahiyang pag-usapan; dapat tanggapin ang katotohanan. (Many steps have to be done, but the first thing to do, like what Heart said, is not to be ashamed to talk about it. The truth must be accepted)," he concluded. (PNA)