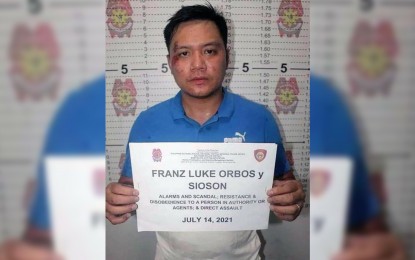 MANILA – The man who assaulted police officers and traffic enforcers in Muntinlupa will face various charges, Philippine National Police (PNP) chief, Gen. Guillermo Eleazar said on Friday.
In a statement, Eleazar said the suspect identified as Franz Luke Orbos will face criminal charges, including alarm and scandal, resistance and disobedience to a person in authority or agents, and direct assault.
In a viral video, Orbos was seen shouting and cursing at law enforcers who apprehended him as his parked vehicle blocked traffic along Susana Heights Road in Barangay Tunasan.
He remained uncooperative and resistant even after he was handcuffed. He was allegedly under the influence of alcohol during the incident.
Meanwhile, Eleazar commended the police officers for calmly dealing with Orbos' rowdy behavior.
"Pinupuri ko ang mga pulis sa pagpapakita ng tunay na kahulugan ng (I commend the police officers for showing the true meaning of) maximum tolerance. I salute those policemen for showing who the better persons are," Eleazar said. (PNA)