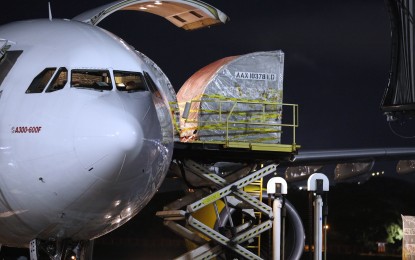 MANILA – The Philippines will have a "steady supply" of Covid-19 vaccines in the next six months as the national government has secured 164 million doses through procurement while sourcing additional shots from the COVAX Facility and bilateral donations.
This was the assurance given by National Task Force (NTF) Against Covid-19 chairperson, Secretary Delfin Lorenzana, and NTF chief implementer and vaccine czar, Secretary Carlito Galvez Jr., during the pre-State of the Nation Address (SONA) Forum participated by member-agencies of the Security, Justice, and Peace Cluster on Wednesday.
"We are now awaiting the delivery of 136.1 million additional doses. On track in our vaccination program implementation, we are looking forward to having a better Christmas this year," Lorenzana said.
As of July 21, a total of 28,485,130 doses have been delivered out of the 164 million doses secured by the country.
Out of these deliveries, over 16 million were procured by the national government, 2.2 million were purchased by the private sector and local government units (LGUs), 10.2 million doses were COVAX-donated, and 2.1 million doses came from bilateral donations.
The 164 million doses are composed of 26 million government-procured Sinovac doses, 40 million Pfizer-BioNTech doses, 13 million Moderna doses, and 10 million Sputnik V doses.
Meantime, the private sector and LGUs have procured seven million doses of Moderna and 17 million doses of AstraZeneca vaccines.
Around two million doses will come from bilateral donations, while 44 million doses have been committed by the COVAX Facility.
In addition, the Philippine government and COVAX have agreed on a cost-sharing agreement for the procurement of five million doses of Johnson & Johnson vaccine.

"Maganda ang nakikitang (We see good) figures of supply and delivery. Kaya masasabi nating (We can say) we are on track. Primary factor is that we have a steady supply," Galvez said.
"Second, the LGUs' capacity of administering 500,000 to 700,000 daily. Despite some delays on the deliveries, we were able to breach almost 400,000 [jabs] in a day," he added.
As of July 20, the country has administered 15,616,562 doses of Covid-19 vaccines nationwide.
Around 10.5 million doses were administered as the first dose, while more than five million individuals have been fully vaccinated.
Transition vaccine supply
Galvez said the NTF is now looking beyond the next six months of this year, as it explores ways on how to secure a more sustainable supply of vaccines until 2022.
"Though we have the 164 million secured supply this year, we are still negotiating for 26 million doses more for our transition to 2022," Galvez said. "We are now venturing on the possibility of including in our procurement the transition supply so we will not have any zero quarter."
Galvez said this strategy would allow the government to continue its vaccination program and avoid what happened in the first quarter of 2021 wherein the country only received about two million doses.
"Ang programa ng ating Pangulo ay magkaroon ng (Our president's program is to have) continuity o annual program on vaccination against Covid-19 so we can ensure the inoculation of all Filipinos," he said.
"Kaya dapat tuloy-tuloy ang programa (So the program should continue) and we will prepare the transition supply from 2021 to 2022," Galvez added.
The 26 million doses under negotiation are composed of 10 million doses of Sinovac, 10 million doses of Novavax, and six million doses of Johnson & Johnson vaccines.
Strong diplomatic relations
Galvez underscored the impact of the Duterte administration's independent foreign policy on the country's vaccine supply for both procured and donated doses.
He said the principle of "being a friend to all, enemy to none" has enabled the Philippines to secure more than 12 million doses from COVAX Facility, including the US government's donation and the more than two million doses from Japan and China.
Galvez bared that the UK government notified the NTF of their donation of 415,000 doses of AstraZeneca vaccines that are expected to arrive within this month.
GAVI, a non-profit group founded to get vaccines to the world's poorest nations, also informed him that three million doses of Moderna vaccine will be donated by COVAX and the US government.
In addition, countries from the Middle East including Saudi Arabia, have expressed their intention to send Covid-19 vaccines to the country.
Exercise prudence prior to procuring vaccine supply
Despite the continuous arrival of vaccine supplies, Galvez cautioned the private sector and LGUs to be "prudent" in procuring vaccines.
"Pinapaalala ko po sa inyo lalo na po sa ating mga LGUs at private sector na huwag tayong padalos-dalos sa pagbili ng mga vaccines (I remind our LGUs and the private sector to be prudent in buying vaccines)," he said.
"Ang laki ng mga prospects sa mga nakukuha nating vaccines ngayon. At tignan rin po natin ang global situation ng mga manufacturers (We have huge prospects in the vaccines we are getting now. Let's look at the global situation of the manufacturers, too)," Galvez said.
He said procuring entities must consider various factors prior to finalizing deals with vaccine makers such as their capacity to produce the committed volumes amidst the high global demand, the manufacturer's credibility, the price of the vaccines, as well as the vaccine's reputation in the countries where they are being used.
"So 'yung mga ganitong mga issues kailangang tignan natin nang mabuti (We should look at these issues carefully). Based on our discussion with vaccine experts, you have to get the vaccines which have been proven and being widely used in the country of origin and other countries," Galvez said.
Galvez cautioned LGUs and private sector not to provide advance payment to manufacturers sans multiparty agreement with the Department of Health and the NTF as it violates Republic Act No. 11525 or the Covid-19 Vaccination Law.
All vaccines are still under Emergency Use Authorization and not commercial products. The law also prohibits the re-selling of vaccines. (PR)