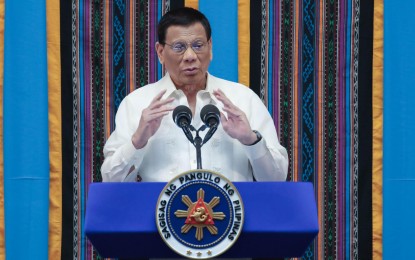 MANILA – The laws on free college education and universal health care are just among the Duterte administration's best legislative legacies aimed at improving the quality of life of Filipinos, House Speaker Lord Allan Velasco said.
Velasco lauded the Universal Access to Quality Tertiary Education Act as one of President Rodrigo Duterte's legislative accomplishments, as the landmark law provides free tuition for students of 112 state universities and colleges across the country.
He noted that the Duterte administration also provided financial assistance to poor but deserving students from marginalized families, indigenous communities, or persons with disabilities through the United Student Financial Assistance System for Tertiary Education (UniFAST).
Aside from free college education, he also highlighted the Universal Health Care Act which guarantees equitable access to quality and affordable healthcare services for all Filipinos.
Velasco said he and his colleagues in Congress are proud partners of Duterte in his efforts to initiate genuine change for the benefit of the Filipino people.
"President Duterte really did his best to uplift the lives of the Filipino people by prioritizing legislative measures and initiating concrete actions that directly benefit our countrymen," Velasco said.
The House, through the leadership of Speaker Velasco, launched an omnibus video highlighting Duterte's legislative accomplishments and remarkable programs during the past five years.
The video features the establishment of Malasakit Centers where indigent patients can efficiently access financial and medical assistance from government agencies; the temporary closure of Boracay for six months as part of the government's efforts to rehabilitate and redevelop the resort island; the flagship Build, Build, Build infrastructure program; and the strict enforcement of Republic Act 9165 or the Comprehensive Dangerous Drugs Act of 2002 to curb the proliferation of illegal drugs in the country.
Also highlighted in the video are notable pieces of legislation such as the Covid-19 Vaccination Program Act, the Coconut Farmers and Industry Trust Fund Act, and the Murang Kuryente Act, among others.
"This video highlights all of those legacy bills and projects, and the public need to be informed of these accomplishments," the Speaker added.
The omnibus video titled, "Kung Duterte, Posible," was initiated by the House leadership ahead of the President's last State of the Nation Address on July 26. It can be viewed on Facebook through this link: https://www.facebook.com/HouseofRepsPH/videos/304584311355566/
"President Duterte was able to accomplish so many things, including signing into law landmark legislation that we never thought would be possible, as well as high impact programs and critical reforms aimed at improving the quality of life of Filipinos," Velasco said. (PNA)