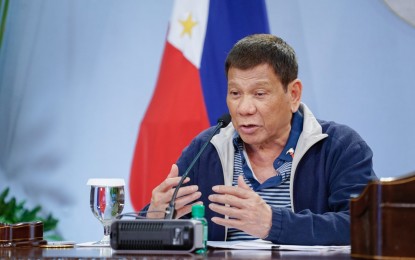 MANILA – President Rodrigo Duterte clarified Wednesday that his move to withdraw from the Rome Statute that created the International Criminal Court (ICC) is an "empty gesture."
Duterte made the remarks, as he persistently received criticisms over his decision to cut ties with ICC.
"Now, you want me prosecuted for so… Ang winithdraw (What I withdrew) was nothing really. It was an empty gesture of me. Wala kasi (It's nothing because) there was nothing to withdraw in the first place," he said in his pre-recorded Talk to the People.
Duterte said he had ordered the revocation of the Rome Statute because he has never obtained a copy of it.
"Wala akong kopya hanggang ngayon sa Rome Statute, whatever. Wala akong kopya (I don't have a copy of the Rome Statute until now. I don't have a copy). I do not know what I committed whether it is a crime, a wrong, or something. I don't know)," he said.
Duterte added that he is clueless about the content of the Rome Statute.
He said he had decided to scrap the statute since that was merely "nothing".
"Sinabi ko lang doon sa staff sa Malacañang, i-withdraw ninyo iyan, hindi ko nabasa iyan (I just told a staff from Malacañang to withdraw that because I've never read that)," he said.
In March 2018, Duterte ordered the Philippines' withdrawal from the Rome Statute after Fatou Bensouda conducted a preliminary examination into his anti-narcotics drive in February of the same year.
The Philippines officially cut ties with the ICC on March 17, 2019, or exactly a year after the Rome Statute's abrogation.
Bensouda, whose term as ICC prosecutor ended on June 15, has asked the court's pre-trial chamber to allow the conduct of an investigation into the alleged crime against humanity associated with the Duterte administration's drug war.
Duterte maintained that he would never face the ICC.
"Bakit ako haharap sa husgado na puro puti ang mga p***** i** niya? Kung ako'y magpalitis? Anong kasalanan ko (Why would I face a court filled white judges? Son of a b****. If I will be prosecuted, whatever my sin is), it will be before a Philippine court and before a Filipino judge)," he said.
On July 22, Presidential Spokesperson Harry Roque said the ICC cannot force the Philippines to cooperate with its planned investigation into Duterte's anti-illegal drugs campaign. (PNA)