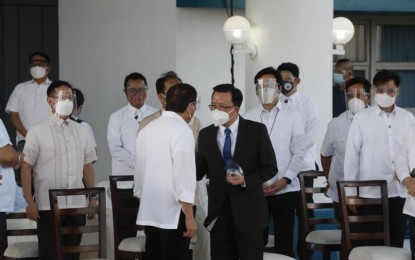 MANILA – The Chinese Embassy in Manila on Thursday pledged to donate more and sustain a steady supply of coronavirus disease 2019 (Covid-19) vaccines to the Philippines.
"As the Philippines is facing an increase in demand of vaccines, we will donate more and substantively increase the supply of vaccines to the Philippines," Chinese Ambassador Huang Xilian said in a speech during the inauguration of the Estrella-Pantaleon Bridge Project.
Huang said this while citing China as the first country to donate test kits, personal protective equipment, vaccines, and dispatch a medical expert team to the country.
"China has been standing in solidarity with the Philippines in fighting the pandemic," he said. "China and the Philippines are close neighbors that cannot be separated and moved away. As close neighbors, our good neighborliness and mutually beneficial cooperation is a blessing for our two peoples and also for the region and beyond."
On Feb. 28, President Rodrigo Duterte witnessed the turnover ceremony of the first 600,000 doses of the 1 million Sinovac vaccines donated by China to the Philippines at the Villamor Airbase in Pasay City.
'A major progress'
Huang also noted that the inauguration of the Estrella-Pantaleon bridge ahead of the original schedule marks a "major progress on the synergy" between the Belt and Road Initiative and the country's Build, Build, Build program.
"President Duterte mentioned in the State of the Nation Address that the Philippines would sustain the momentum in infrastructure development and complete the Build, Build, Build program flagship projects as scheduled. I believe that the progress of government-to-government projects between China and the Philippines will contribute to achieving this goal," he said.
Huang said the China-funded Binondo-Intramuros Bridge and Chico River Pump Irrigation projects are also scheduled for completion in 2021.
"(The) Philippine-Sino Center for Agricultural Technology-Technical Cooperation Program Phase III and the 10,000-ton Rice Donation Project are also expected to be concluded within this year. Safe Philippines Project Phase I has seen the loan agreement signed and will break ground in a short time," he added.
Aside from this, the envoy said "a list of pipeline projects" worth billions of US dollars is currently under internal review and bidding process.
"This (Estrella-Pantaleon Bridge) inauguration signifies the multiple China-Philippine government-to-government projects are entering into a new stage of harvest," he said.
The China-funded Estrella-Pantaleon Bridge was opened to the public on July 29 at 8 p.m., allowing motorists from Mandaluyong City to reach the central business district of Makati in a few minutes. (PNA)