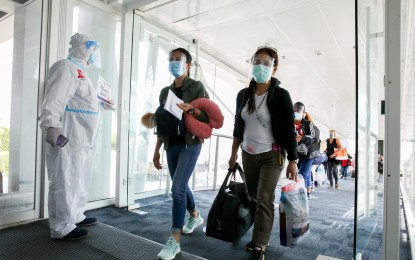 MANILA – The Philippines has released an updated roster of "green" countries and jurisdictions classified as "low-risk" for the coronavirus disease 2019 (Covid-19).
The number of countries and jurisdictions where the "green lane" policy for fully vaccinated travelers will be implemented has been reduced to 51 from 57, Presidential Spokesperson Harry Roque said in a press statement on Friday.
Bosnia and Herzegovina, Bulgaria, Djibouti, Equatorial Guinea, Hungary, Kosovo, Moldova, Poland, and Slovakia have been added to the revised list.
On the other hand, Barbados, The British Virgin Islands, Bulgaria, Curacao, Eswatini, French Polynesia, Greenland, Iceland, Isle of Man, Israel, Liechtenstein, Malta, Mauritius, South Korea, Turks and Caicos Islands, and Vietnam have been removed from the list of "green" countries and jurisdictions.
The new list, Roque said, was approved by the Inter-Agency Task Force for the Management of Emerging Infectious Diseases (IATF-EID) on Thursday.
The states and jurisdictions included in the revised roster are as follows:
Albania
American Samoa
Anguilla
Antigua and Barbuda
Australia
Azerbaijan
Benin
Bermuda
Bosnia and Herzegovina
Brunei
Bulgaria
Burkina Faso
Cayman Islands
Chad
China
Comoros
Cote d' Ivoire (Ivory Coast)
Dominica
Djibouti
Equatorial Guinea
Falkland Islands
Gabon
Gambia
Ghana
Grenada
Hong Kong (Special Administrative Region of China)
Hungary
Kosovo
Laos
Mali
Marshall Islands
Federated States of Micronesia
Moldova
Montserrat
New Caledonia
New Zealand
Niger
Nigeria
North Macedonia
Northern Mariana Islands
Palau
Poland
Romania
Saba (Special Municipality of the Kingdom of Netherlands)
Saint Barthelemy
Saint Pierre and Miquelon
Singapore
Sint Eustatius
Slovakia
Taiwan
Togo
The "green" states and jurisdictions are classified by the Department of Health as "low-risk countries or jurisdictions based on disease incidence rate," based on the IATF-EID's Resolution 123-C issued on June 28.
The IATF-EID, in its Resolution 128-A released on July 22, has modified the protocols for fully vaccinated individuals who can avail of "green lanes".
According to IATF-EID Resolution 128-A, fully vaccinated individuals who are qualified for green lanes must meet the four conditions set by the task force to enable them to observe a shorter quarantine period of seven days in an isolation facility.
The arriving passengers must make sure that their port of origin is a "green" country or jurisdiction and they stayed there exclusively in the past 14 days before arriving in the Philippines.
They must also be fully vaccinated, whether in the Philippines or abroad, and their vaccination status can be independently verified by Philippine authorities as valid and authentic upon their arrival in the country.
Fully vaccinated individuals who will be given green lanes are required to take a reverse transcription-polymerase chain reaction (RT-PCR) test on their fifth day in the country.
Even if they yield a negative RT-PCR test, they are still required to complete the seven-day facility-based quarantine. If the RT-PCR test is, however, positive, prescribed isolation protocols must be followed.
On the other hand, individuals whose port of origin is not a green country or who stayed outside a green country or jurisdiction at any time in the past 14 days before arriving in the Philippines cannot avail of green lanes.
Individuals who are not fully vaccinated, or even if fully vaccinated but whose vaccination status cannot be verified as authentic upon their arrival in the country, cannot also be given green lanes. (PNA)