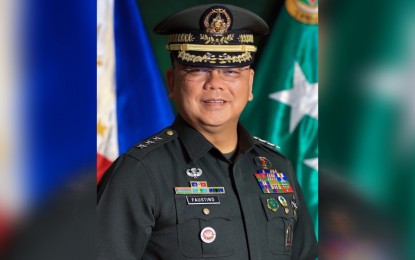 MANILA – The Armed Forces of the Philippines (AFP) on Friday welcomed President Rodrigo Duterte's appointment of Lt. Gen. Jose Faustino, Jr. as its next chief.
"The AFP welcomes the decision of the President to appoint Lt. Gen. Jose Faustino as the next Chief of Staff of the AFP, replacing General Cirilito Sobejana who will retire on Saturday, July 31," said AFP public affairs office chief, Navy Capt. Jonathan Zata, in a statement.
Sobejana, a Medal of Valor awardee and member of the Philippine Military Academy (PMA) Class of 1987, is scheduled to retire after reaching the mandatory retirement age of 56.
His replacement, Faustino, a member of PMA Class of 1988, is the incumbent commander of the Joint Task Force Mindanao.
Faustino also served as acting commanding general of the Philippine Army and head of the Eastern Mindanao Command.
"His wealth of experience and passion for service as a Commander and staff officer gives him the mettle to lead the AFP in accomplishing its mission especially as we turn up a notch our operations in achieving lasting peace and development in the country," Zata said.
The Department of National Defense (DND) also expressed its full confidence in the capability of Faustino as the new AFP chief.
"A seasoned military commander, Lt. Gen. Faustino will ably direct our Armed Forces toward addressing the pressing peace and security concerns of our country, particularly, in ending the local communist armed conflict that has dragged our country down for the last five decades. We look to Lt. Gen. Faustino to lead our troops to continue making the AFP a highly professional, capable, and world-class organization that we envision it to be," Defense Secretary Delfin Lorenzana said in a statement.
Lorenzana, meanwhile, thanked Sobejana for his dedication to service and wished him the best on his retirement.
In a press statement, Presidential Spokesperson Harry Roque said the Palace wishes Faustino success as he takes the helm of AFP.
"We are confident that Gen. Faustino will continue the peace and development efforts of his predecessors while aggressively building up our defense capability," Roque said. (with report from Ruth Abbey Gita-Carlos/PNA)