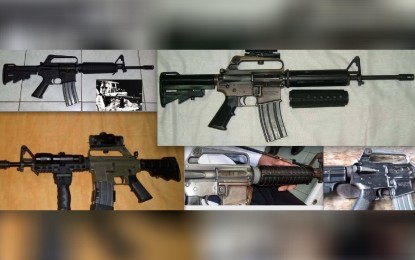 MANILA – When Armed Forces Chief of Staff, Gen. Cirilito Sobejana, retires after 34 years in service on Saturday, he will also turn over his government-issued M-653 rifle, which he used for nearly three decades.
Sobejana said he was a young lieutenant when the weapon was issued to him.
"It was this weapon I used in 27 gun battles against rebels and terrorists, particularly the Abu Sayyaf Group on that fateful day of Friday the 13th 1995 in Matarling, Basilan where I was seriously wounded," he told the Philippine News Agency (PNA) in an exclusive interview on Friday, a day before he reaches the mandatory retirement age of 56.
As an Army Scout Ranger who specialized in jungle fighting, Sobejana saw action in various parts of the country, fighting insurgents and terrorists, even after he recovered from the 1995 Basilan incident where he almost lost his right arm.
For his bravery in leading 15 men against at least 150 bandits, he was awarded the Medal of Valor.
After undergoing a number of surgical procedures in the United States, he got used to firing the M-653 with his more able left hand, which he also uses to salute.
Sobejana thanked his Commander in Chief, President Rodrigo Duterte, for giving him the opportunity to serve as military chief.
He also thanked soldiers for their heroism and sacrifice in protecting the country, especially amid the pandemic.
A fitting ceremony, spiced with an honor parade, at Camp Aguinaldo will send off Sobejana.
He will be succeeded by Lt. Gen. Jose Faustino Jr., the incumbent commander of the Joint Task Force Mindanao and former acting commanding general of the Philippine Army. (PNA)