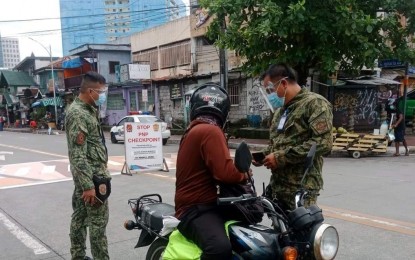 MANILA – The National Capital Region (NCR) Plus travel bubble started Sunday in compliance with Inter-Agency Task Force (IATF) Resolution No. 130-A that placed added and heightened restrictions prior to the two-week enhanced community quarantine (ECQ).
Department of the Interior and Local Government (DILG) Secretary Eduardo Año on Sunday said quarantine control points (QCP) manned by combined elements of the Philippine National Police (PNP), Armed Forces of the Philippines, Philippine Coast Guard, and the Bureau of Fire Protection will be placed at the borders of Bulacan, Rizal, Laguna and Cavite.
As per the IATF resolution, only authorized persons outside of residence (APORs) shall be allowed to enter and leave the NCR Plus area.
"At the moment, the QCPs are at the borders of Bulacan, Rizal, Laguna and Cavite with adjoining provinces but once we move to ECQ starting August 6, checkpoints will now be located inside Metro Manila," he said in a news release.
QCPs are located at the borders of Bulacan with Pampanga and Nueva Ecija, Rizal with Quezon, Laguna with Batangas and Quezon, and Cavite with Batangas.
The PNP may still install regular checkpoints inside the NCR Plus bubble to implement curfew hours, enforce minimum health standards, and for general law enforcement.
DILG Undersecretary Jonathan Malaya said those considered APORs shall present to police authorities manning the QCPs any of the following: IATF identification (ID) cards issued by regulatory agencies, valid IDs or pertinent documentation issued by establishments allowed to operate under the current quarantine classification, and other proof or evidence that purpose of travel is allowed.
Who are allowed out?
Considered APOR under the omnibus guidelines are health and emergency frontline services and uniformed personnel; government officials and employees on official travel; duly-authorized relief and humanitarian assistance actors; persons travelling for medical or humanitarian reasons; persons going to and from the airport; anyone crossing zones for work in permitted industries; and public utility vehicle operators.
If found unauthorized, the person will not be allowed to pass and will be asked to return home.
The PNP will allow the free movement of cargo/delivery vehicles across all QCPs as these are important to the economy.
"Secretary Año has instructed all QCPs to allow the unimpeded movement of cargo trucks and delivery vehicles especially those carrying food items across all our checkpoints," Malaya said.
Año said the implementation of strict border controls for people entering and leaving the NCR Plus bubble is critical to stopping the spread of the Delta variant. (PR)