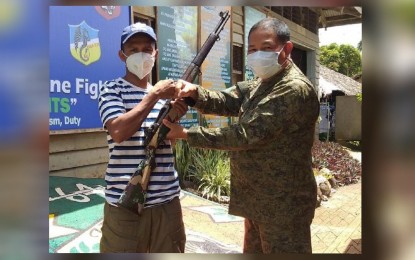 ZAMBOANGA CITY – A top military official advised remaining members of the Abu Sayyaf Group (ASG) to surrender and take advantage of the government reintegration program intended for them.
Maj. Gen. Generoso Ponio, the Army's 1st Infantry Division commander, issued the advice after a courier of the ASG has become the latest recipient of the government's programs for rebel returnees.
The reintegration program includes the grant of livelihood assistance, remuneration of the firearms they yield, and other assistance that will help them reintegrate into the mainstream of society.
The ASG courier, Samatan Aknalun Imban, 41, voluntarily surrendered and yielded a Garand rifle to the Army's 64th Infantry Battalion (64IB) in Sumisip, Basilan province on August 4.
"Take advantage of the government's integration programs. It will provide you with an opportunity to return to your families and communities, and together we shall peacefully solve our problems," Ponio said.
He said they could become productive citizens of the society through the programs of the government intended for ASG surrenderers.
Lt. Col. Renante Besa, 64IB commander, said the surrender of Imban is a result of the efforts of the 16th Military Intelligence Company (16MICO) under the 1st Military Intelligence Battalion (MIB) and the 64IB.
"The 64IB will continue its peace campaign projects with the local government unit to convince the remnants and supporters of the Abu Sayyaf Group to return to the fold of the law," Besa said. (PNA)