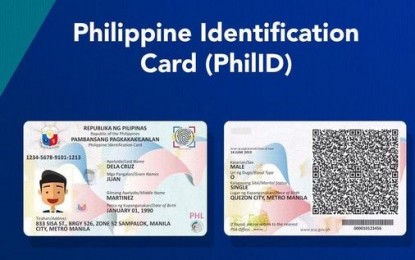 DAVAO CITY – The Philippine Identification (PhilID) card is a valid proof of identity and must be honored in all public and private transactions.
For government transactions, it can be used to apply for social and welfare benefits, such as those offered by the Department of Social Welfare and Development, Government Service Insurance System, Social Security System, Philippine Health Insurance Corporation, Home Development Mutual Fund (Pag-IBIG Fund, among others.
The PhilID's many uses lured Margie Sarnoma, a 38-year-old resident of Barangay Maa here, to register for the Philippine Identification System (PhilSys).
The mother of three who does home-service manicure services registered online for Step 1.
"I learned from my neighbor that PhilID is very powerful because it will be accepted immediately when transacting with government agencies without the need to present other IDs," she said in the vernacular during an interview with the Philippine News Agency on Aug. 2.
She added that during these difficult times, her family is in dire need of assistance from the government whenever it's available.
Her husband is a construction worker but projects do not happen daily.
Based on PhilSys guidelines, the PhilID is also accepted when applying for passport and driver's license and in tax-related transactions.
"Additionally, the identification card may be presented as proof of identity for admission to any government hospital, health center, and other related institutions," the rules state.
For private transactions, the PhilID can be used for bank transactions such as opening of accounts.
To date, more than 20 million Filipinos have completed Step 2, where iris and fingerprint scans and front-facing photographs are recorded.
"As of 23 July 2021, a total of 20,724,895 Filipinos had their biometric information captured and demographic information verified at designated registration centers across provinces nationwide," the Philippine Statistics Authority posted on July 28 on Facebook.
"Reaching 20 million registrations for Step 2 this July means we are on track to reach our 2021 target of 50 to 70 million Filipinos registered for PhilSys. Given this pace, we are confident that by the end of the year, this target will be met. Despite the limitations brought by the pandemic, we are thankful for the unwavering support of Filipinos to PhilSys and their continued excitement to register," PSA quoted Undersecretary Dr. Claire Dennis Mapa.
Signed into law by President Rodrigo R. Duterte in August 2018, Republic Act 11055, or the Philippine Identification System Act, aims to establish a single national ID for all Filipinos and resident aliens.
The national ID shall be a valid proof of identity that shall be a means of simplifying public and private transactions, enrollment in schools, and the opening of bank accounts.
It also seeks to boost efficiency, especially in dealing with government services where people will only need to present one ID during transactions. (PNA)