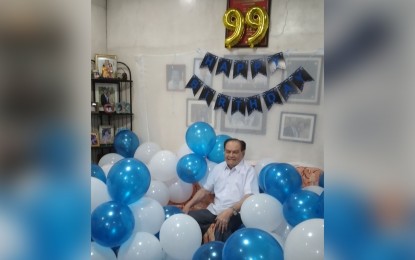 MANILA – Retired Maj. Max Young, the oldest living Filipino Korean War veteran, celebrated his 99th birthday last July 30, thanking God after he recovered from severe pneumonia, not once, but four times early this year.
Young is concurrently the president of the Philippine Expeditionary Force to Korea (PEFTOK), wherein former President Fidel V. Ramos, now 93, is a member.
From the original 7,420 PEFTOK troopers, only 174 are living as of Aug. 10, 2021, all of them in their late '80s and '90', Young said.
In an exclusive interview, Young said he was first rushed to the University of the East Medical Center in Quezon City gasping for breath on Feb. 3 and was released a week later.
"But again on Valentine's Day, Feb. 14, I was back in the hospital, but was discharged a few days later only to be brought again on Feb. 20, and stayed at the hospital for a week," he said.
"I thought everything was okay, but on March 27, I was again brought to the hospital when I was diagnosed of pneumonia by Dr. Isagani Rodriguez," Young said.
During four times he was in the hospital, Young's second wife, Mercedes (first wife is Norma), their nine children and their respective families that include 37 grandchildren and great grandchildren, prayed for the healing of Young, a decorated hero of the Korean War as tank commander during the Yultong fierce gun battle that earned him the highest military medal given by the South Korean government to a soldier for gallantry in combat.
"We thank God and the intercession of the Blessed Mother for answering our prayers for the healing of my husband," said Mercedes, a Marian devotee.
She attributed the healing a "miracle at a time that the deadly pandemic Covid-19 is raging."
Young's children, all from first wife (Norma), are Walter, 71, the eldest, William, Wilbert, Winston, Wilmar, Wandra, Wilson, May, and Warren, 61, the youngest.
The 99-year old Young was also a guerrilla fighter during World War 2.
During the interview, Young said he is looking forward "to celebrate my 100th birthday in 2022 with God's blessing." (PNA)