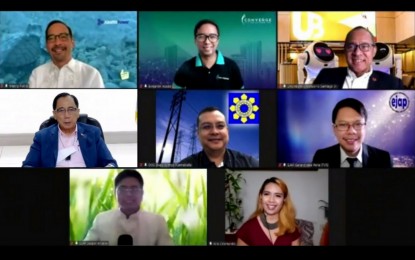 MANILA – Department of Energy (DOE) Undersecretary Felix William Fuentebella said there is sufficient supply of power despite the Malampaya gas field going offline this October as long as there will be no forced outages from power plants.
During the economic forum of the Economic Journalists Association of the Philippines and Aboitiz Equity Ventures Wednesday, Fuentebella said projected output from Malampaya is expected to further decline between 2022 and 2024.
He said expected output from Malampaya this year is at 2,313 megawatts, and will decline to 2,156 MW by 2022, depleting to 1,813 MW by 2023, and down to 1,563 MW by 2024.
He added the gas field is maintaining a gauge pressure of 100 barg to manage the daily consumer demand.
"We see the need for more investments as far as the power generation is concerned," Fuentebella said.
But with the 668-MW GNPower Dinginin expected to go online in the third quarter of this year, the DOE official said the grid will be "in a better position" for the rest of the year.
"For 2022, we see the thinning of supply on Election Day and thereafter. This is why we are closely monitoring the situation and we are coming up with more policies so that we can ensure that we have more supply," he added.
Fuentebella cited that two liquefied natural gas (LNG) facilities are expected to start their operations by next year.
"We have the First Gen LNG facility in Batangas, which we see it's on track to be finished by September 2022, and the floating storage unit LNG facility of AG&P that is expected to be completed by second quarter of 2022," he said.
In the same virtual event, AboitizPower Corp. president and chief executive officer Emmanuel Rubio said the company hopes to secure the certificate of compliance from the Energy Regulatory Commission (ERC) within the next two months for its Dinginin plant Unit 1.
"We are looking at starting the unit and be(ing) synchronized by August —between Aug.16 and 19— and hopefully to alleviate the supply situation when Malampaya goes on outage in October," Rubio said.
For the Unit 2 of the same power plant, the AboitizPower executive said the firm aims to begin the commissioning by mid-March next year.
Rubio added the projects face some delays due to travel restrictions brought by the coronavirus disease 2019 (Covid-19) as there are limitations in bringing technical foreign advisers for the projects.
"As a generator, what we would like to make sure is that all our plants are running. And I've already said that the only time power plants are recovering their investments is when their plants are running," he said. (PNA)