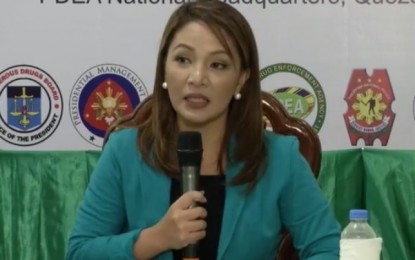 MANILA – The appointment of Presidential Communications Operations Office (PCOO) Assistant Secretary Anna Marie Rafael as general manager of the Benguet Electric Cooperative (Beneco) is "effective immediately."
This was the statement made by Beneco after an opposing camp allegedly attempted to prolong her assumption of office by declaring that a Beneco Board Resolution through a "special meeting" set on Aug. 31 is required to confirm Rafael's appointment.
"The words of her appointment does not need any room for construction as it is clear, concise, and unambiguous. The only legitimate action of the Board is to require the submission of her One-Year Action Plan to be attached to the Performance Management Contract," Beneco said in a press statement on Monday.
The power utility serving Benguet province added that Rafael's appointment, which was made by the National Electrification Administration (NEA) board of administrators (BOA), is "clear and regular" in its face.
It added that "no other action is required or otherwise needed before the appointment becomes effective."
Citing lawyers opinion, Beneco said should the Board continue to convene and question her appointment, their action is already beyond their authority and is, therefore, ultra-vires or "beyond the powers."
Rafael, for her part, assured that she has already been discharged, and shall continue discharging in the succeeding days, the duties, and responsibilities as a general manager.
She said services to members-consumers-owners and stakeholders should not be jeopardized because of this last-second ditch to her appointment.
On July 29, 2021, the NEA BOA passed Regular Board (RB) Resolution No. 2021-71 that approved Rafael's appointment as general manager ,instead of Melchor Licoben, Beneco's acting manager.
The Philippine Rural Electric Cooperatives Association Inc. (Philreca) has earlier questioned why Rafael was endorsed instead of Licoben.
The NEA BOA selected Rafael as she was the candidate with the higher score during the final interview.
Licoben scored 82.75 percent while Rafael drew a 94-percent mark.
Based on the legal opinion rendered by the Office of the Government Corporate Counsel (OGCC), Licoben had exposed his lack of integrity and probity for not relinquishing his post as the incumbent officer-in-charge (OIC), which had impacted his fitness to be Beneco's general manager.
The OGCC cited that under NEA Memorandum 2017-035, an officer-in-charge (OIC) general manager, who applies for the position for general manager, shall relinquish his OIC designation as mandatory. (PNA)