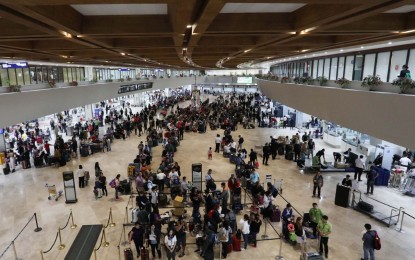 MANILA – The Philippines has extended anew the travel ban from India and nine other countries until Sept. 5 to prevent and slow down the spread of Covid-19, Malacañang said on Tuesday.
Presidential Spokesperson Harry Roque made the statement after health authorities recorded 22,366 fresh cases of Covid-19, the country's highest-ever tally in the pandemic, on Aug. 30.
"President Rodrigo Roa Duterte approved the recommendation of the Inter-Agency Task Force (IATF) to extend the current travel restrictions in India, Pakistan, Bangladesh, Sri Lanka, Nepal, United Arab Emirates, Oman, Thailand, Malaysia, and Indonesia from September 1 to 5, 2021," Roque said in a press statement.
The extended travel ban also came amid the threat posed by the more infectious Delta Covid-19 variant that was first detected in India.
"These travel restrictions form part of the pro-active measures to slow down the rising number of Covid-19 cases, stop further spread of variants, and increase the country's existing healthcare capacity," he added.
Despite the country reaching a new all-time high of new Covid-19 cases, President Rodrigo Duterte said that the Philippines' death toll is fewer than other countries' fatalities.
"Hirap ng America ngayon. Ang Europe is suffering from a maraming mas namatay. Atin hawa lang, ang patay natin hindi masyado ganun karami (America is facing difficulties. Europe is suffering from more deaths. In our case, it's only the transmission, our deaths are not that many)," he said in a prerecorded public address.
He also floated the possible policy shift by imposing "localized lockdowns" nationwide instead of implementing city-wide and province-wide community quarantine to address the health crisis.
"Whether the rise in the number of cases is due to the Delta variant or not, we need to recalibrate our response. We are also evaluating whether granular or localized lockdown would work best in our current situation," he added.
On Tuesday, the total number of Covid-19 infections neared the 2 million mark with 13,827 new infections.
The country's case toll rose to 1,989,857, of which 145,662 are active cases.
The death toll increased to 33,448 after 118 more people died while recoveries climbed to 1.8 million mark with 16,759 new survivors. (PNA)