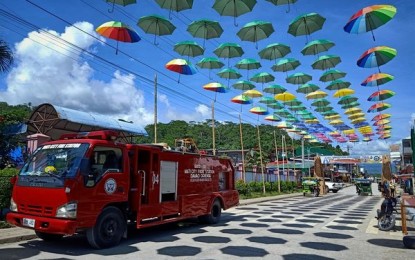 DAVAO CITY – The Bureau of Fire Protection (BFP) in Davao Oriental has joined efforts to prevent the spread of the coronavirus disease 2019 (Covid-19) by deploying fire trucks equipped with public address system to encourage residents to do their part in battling the pandemic.
"Folks, each of us wishes to put an end to this pandemic. But do we really mean it? Don't we think it's about time that we rise up and seriously do our part to stop the spread? Be proactive," the BFP-Davao Oriental said in a Facebook post.
It also reminded the public to always observe the minimum health standards – wear masks, wash hands frequently, and observe safe physical distancing.
"All these will eventually slow down and stop if we sincerely work to combat the dreaded virus. Magtinabangay kita, kaya nato kini (Let us help each other, we can do it)," it added.
Meanwhile, Governor Nelson Dayanghirang issued Executive Order (EO) No. 20 placing the province under general community quarantine (GCQ) with additional restrictions from Sept. 8 to 20.
Under the EO, only people aged 18 to 65 years old are allowed to go out of their residences for essential purposes.
The provincial government also imposed a 24-hour liquor ban and curfew from 8 p.m. to 5 a.m.
All celebratory/ social events shall be sanctioned by all respective local government unit's (LGU) Incident Management Team (IMT).
Religious gatherings are limited to at least 10 percent capacity but LGUs may increase it to up to 30 percent capacity while wakes are limited to a maximum of three days.
Cockfighting, including E-sabong, and other forms of gambling are prohibited and outdoor contact sports are not allowed.
"Mass/public transport is allowed and LGUs may still implement ECQ or hard lockdown in critical areas," the EO further read. (PNA)