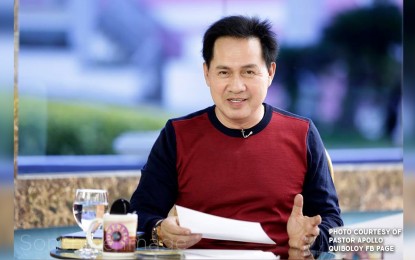 DAVAO CITY – The libel cases filed by Senator Manny Pacquiao are retaliatory and political in nature considering that election season is coming, said the legal counsel of Pastor Apollo Quiboloy, the founder of the Kingdom of Jesus Christ.
Pacquiao filed PHP100-million libel and cyber libel cases on Tuesday against Quiboloy, who questioned the boxer's alleged misuse of the PHP3.5-billion fund for the Sarangani Sports Training Center.
In a 13-page complaint filed before the Makati Prosecutor's Office, the senator said Quiboloy should pay and be held accountable for "using his power and influence to spread fake news and false information".
"We can only surmise, that is our supposition considering it's September and the election is next year. As of the present, we cannot say yet as we are studying our options very carefully," said lawyer Marie Dinah Tolentino, the evangelist's spokesperson, during a press briefing on Tuesday.
"For Senator Manny, he thinks it is justifiable on his part but for our part, we would like to disprove that the amount is even to be awarded to him. For us we think it is his right, as is the right of every Filipino to ask for damages but it is also a right to disprove whatever he might claim and it is up to the court [if it ever comes to court] to award it if it is even awarded," Tolentino added.
Quiboloy's camp has yet to receive a copy of the complaint and assured that the pastor is ready to respond to the accusations against him.
"We maintain that every citizen has the right to inquire, to hear, to speak, and make commentaries about the actions of public officials. Pastor Quiboloy merely exercised that right in a properly respectful manner. In fact, he never made an accusation against the good senator but only floated the question regarding that matter on behalf of the people who wanted answers," Tolentino said.
She also added that in a democratic society, public officials should expect criticism and critical evaluation of their performances from the citizens whom they are expected to serve.
"The interest of society and the maintenance of good government demand a full discussion of public affairs. And we shall do all within our power to ensure that this complaint will not curtail what is a constitutionally protected speech and expression," she added.
Tolentino said as soon as they receive the copy of the complaint, they shall file their counter affidavit and will wait for the fair and impartial resolution of the Makati court.
"Senator Pacquiao is entitled to his propaganda. It is his right to file whatever case he wants and it is his right to ask for whatever damages he feels are proper for him. But again, it is not up to him. It is up to the court to award damages if ever," she said. (PNA)