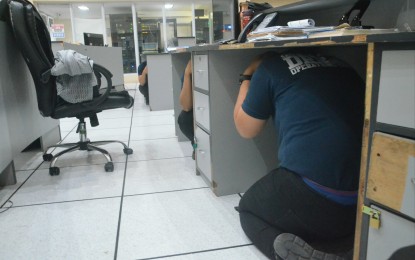 MANILA – The third quarter National Simultaneous Earthquake Drill (NSED), originally scheduled for September 9 but postponed due to typhoons Jolina and Kiko, will be carried out Thursday.
NDRRMC executive director and Office of Civil Defense administrator Ricardo Jalad issued a memorandum, addressed to members of the disaster risk reduction and management (DRRM) councils at all levels, barangay DRRM committees, head of national government agencies, constitutional offices, state and colleges universities, and government-owned and -controlled corporations.
The ceremonial pressing of the button will be held at 8 a.m. through video conferencing and livestream, Jalad said.
"In this regard, you are hereby directed to participate in the third quarter NSED 2021 to promote earthquake preparedness and disaster resiliency with the integration of minimum public health standards during the Covid-19 pandemic," he added.
The NSED for the first and second quarters of this year was held on March 11 and June 10, respectively.
This will be the country's fifth online earthquake drill after the activity was done virtually for the first time during the third quarter last year at the height of the pandemic. (PNA)