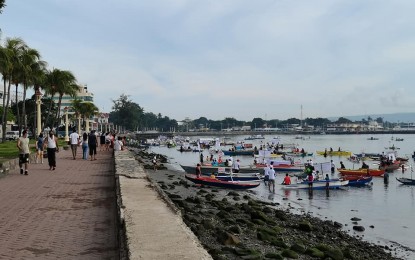 DUMAGUETE CITY – The Community Environment and Natural Resources Office II (CENRO II) of the Department of Environment and Natural Resources (DENR) here on Wednesday clarified that it has not yet received any application or other forms of communication from the Dumaguete City government regarding the proposed 174-hectare offshore reclamation in this capital.
CENRO II officer-in-charge Viernov Grefalde, in an interview with the Philippine News Agency, said they cannot comment on it yet until such time that they receive a word from the city government or other entities regarding the project.
"There is nothing to talk about as yet and we do not want to issue any statements on this project which is 'controversial' until the DENR/CENRO II becomes officially involved," he said in mixed English and Cebuano dialect. "We do not want to preempt anything as we do not have first-hand information yet regarding the reclamation project."
Grefalde, however, said his office issued a letter early this month in response to a query from Dr. Janet Estacion, director of the Silliman University's Institute of Environment and Marine Sciences (SU-IEMS) regarding the purported survey and dive activities in the marine protected areas (MPAs) along the city's coastline.
The marine survey was to be conducted by divers and marine biologists of the Cebu-based EnviComm Corporation from Aug. 14-21 to determine the extent of the marine life in the Dumaguete coastline. No one from those opposing the project joined the activity, citing that they were not informed about it early on.
City Mayor Felipe Antonio Remollo recently said the results of the marine survey would be disclosed to the public in due time.
Grefalde, in his letter-response to SU-IEMS, said they did not have prior knowledge about the marine survey and had even received a letter from the DENR-Region 7 (Central Visayas) to investigate the matter.
Further, he said CENRO II has not received any application from EnviComm Corporation or another individual or entity for an Environmental Impact Assessment.
Grefalde pointed out that his office remains "neutral" in the controversial proposed reclamation project and shall therefore refrain from making any comments until "the agency shall play an important role in the evaluation of the project leading to its approval or disapproval".
The PHP23-billion unsolicited project by E.M. Cuerpo, Inc., which has ties with Chinese firm Poly Changda Engineering, Co. Ltd., has been the bone of contention between the mayor and some councilors who are backing it, and those opposing it.
The oppositors include National Scientist Dr. Angel Alcala, Dumaguete Bishop Julito Cortes, marine biologists and other scientists, environmental advocates and groups here and abroad, and fisherfolk along the coastal barangays that stand to be affected by the project.
They have been holding various protest activities over the past two months, noting alleged irregularities in certain procedures involving the proposal, and citing moral and legal reasons. (PNA)