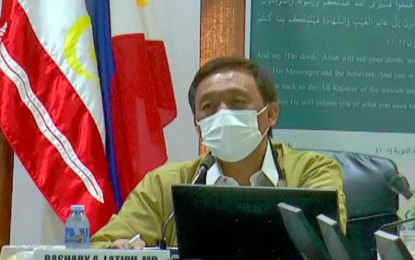 COTABATO CITY – A total of 391,044 coronavirus disease 2019 (Covid-19) vaccine doses have so far been administered across the Bangsamoro Autonomous Region in Muslim Mindanao (BARMM) as of Wednesday night, the region's Ministry of Health (MOH) reported.
Dr. Bashary Latiph, the BARMM health minister, said of the total number, 150,985 have been administered their first dose, another 83,217 have completed their two doses of the jab, and 156,842 have received the single-shot Janssen vaccine.
"The other vaccines we used are the two-dose Sinovac, AstraZeneca, Pfizer, Moderna, and Sinopharm brands," he said in a statement Thursday.
The BARMM comprises the cities of Marawi, Lamitan, and Cotabato, the provinces of Maguindanao, Lanao del Sur, Sulu, Basilan, and Tawi-Tawi, and the 63 villages in six towns of North Cotabato.
"We are continuing our vaccination across the region," he said, adding that the region has so far received a total of 646,340 vaccines from the national government.
Latiph said MOH data indicated that Maguindanao and Lanao del Sur have the highest administered jabs among BARMM provinces with 103,092 and 102,714 doses, respectively.
While Covid-19 infection in the region is on an upward trend, he said the number of cases remains "manageable."
As of Wednesday, the region has a total of 996 active Covid-19 cases. Of the total active cases, Cotabato City has 352; Maguindanao and Lanao del Sur with 319 each; Sulu – 5; Basilan -1; and Tawi-Tawi – 0.
The recovery rate from the disease is at 87 percent with 10,155 patients having recovered from a cumulative total of 11,614 confirmed cases since March last year.
The death toll from the disease stands at 463. Meantime, Latiph said MOH has also continuously provided support to its referral hospitals in the region that included the Cotabato Regional and Medical Center (CRMC) in Cotabato City, the Amai Pakpak Medical Center (APMC) in Marawi City, the Maguindanao Provincial Hospital, and the Dr. Serapio Montañer District Hospital, among others.
On Monday, Latiph said the APMC received 200 cylinders of oxygen with regulators to augment the shortage of supply in the hospital. The CRMC will also receive similar hospital support soon, he said. (PNA)