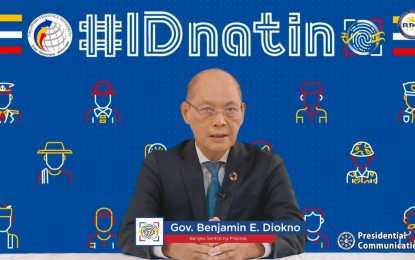 MANILA – Doing financial transactions amid the pandemic-related movement restrictions boosts opportunities for the central bank to hit its 70-percent target in the number of adult Filipinos with bank accounts by 2023.
In a virtual briefing on Thursday, Bangko Sentral ng Pilipinas (BSP) Governor Benjamin Diokno said registration for the national identification (ID) or the Philippine Identification System (PhilSys), which requires registrants to have bank accounts, as well as the whole-of-government approach in addressing issues on financial inclusion, are pluses to the achievement of this goal.
"I'm optimistic that the 70 percent target for 2023 is doable for (these) three reasons," he said.
Based on the BSP's financial inclusion survey in 2019, only around 29 percent of Filipino adults had bank accounts.
Diokno attributed the big jump in the number of account ownership last year to the digitalization of financial transactions.
He said basic deposit accounts (BDA) last year rose by 65 percent, or from 4 million to 6.6 million, while electronic money (e-money) grew by 94 percent from 17.9 million to 34.7 million during the same period.
"We use BDA and e-money accounts as proxy indicators given that these types of accounts are typically opened by those who were previously unbanked," he added.
The Philippine Statistics Authority (PSA) has teamed up with the state-owned Land Bank of the Philippines (Landbank) for account enrollment of those applying for national ID who do not have bank accounts.
Diokno said around 5.3 million Filipinos have opened bank accounts in line with the national ID registration.
He added the distribution of the government's pandemic-related cash aid also helped increase the number of e-money accounts by around 4.5 million.
Signed into law by President Rodrigo Duterte in August 2018, Republic Act 11055, or the Philippine Identification System Act, aims to establish a single national ID for all Filipinos and resident aliens.
The national ID shall be a valid proof of identity that shall be a means of simplifying public and private transactions, enrolment in schools, and the opening of bank accounts.
It will also boost efficiency, especially in dealing with government services where people will only need to present the PhilID during transactions. (PNA)