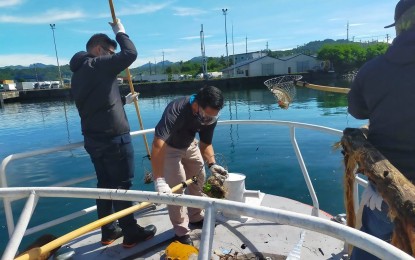 SUBIC BAY FREEPORT – More than 200 volunteers from locator companies, community groups, and departments of the Subic Bay Metropolitan Authority (SBMA) fanned out to eight points along the shoreline here on Friday to collect plastic wastes and other debris that were washed ashore after the recent heavy rains.
SBMA Chairman and Administrator Wilma T. Eisma said the coastal cleanup is an annual event here among stakeholders in line with the International Coastal Cleanup Day observance, but the event was canceled last year because of the coronavirus disease 2019 (Covid-19) pandemic.
"This time, we allowed it but on condition that the activities be undertaken with strict observance of health and safety protocols," Eisma said in a statement. "Despite the pandemic, there is still a need to protect the environment because a healthy environment is proven to be a big factor to the healing process, and we need that now more than ever."
The SBMA Ecology Center, which organized the cleanup, assigned volunteers into 10-man teams deployed at onshore cleanup points along Waterfront Beach, San Bernardino Road, Triboa Bay Boardwalk, Tago Beach, and Nabasan Beach.
Others were dispersed to river deltas, while some underwater teams also dived on the bay to take out trash.
Ecology Center manager Amethya dela Llana said the waste collected by the various teams were sorted out and recorded to further study the extent of pollution along the coast and at Subic Bay.
Most of the trash washed ashore were plastic bottles, styrofoam cups and food packets.
Volunteers said they also collected a huge volume of disposable face masks along with rubber slippers.
The coastal cleanup also served to conclude the weeklong celebration of this year's "Biay Dagat", a mini-festival launched in 2019 to promote environmental protection and engage stakeholder support in ecological action. (PNA)