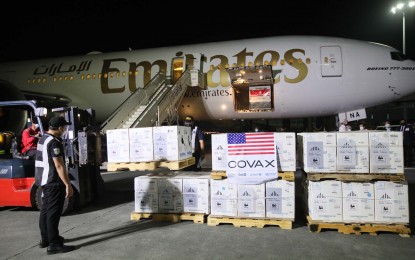 MANILA - The country has so far received a total of 64,942,000 vaccine doses, including the 9,586,270 doses from Sept. 13 to 19 -- the highest weekly delivery since the life-saving shots from various manufacturers started arriving in February.
In a news release issued by the National Task Force Against Covid-19 on Monday night, it said of these shipments, 6,171,590 million doses arrived over the weekend. A total of 561,600 Pfizer doses donated by the US through COVAX Facility arrived Monday evening.
The national government continues to build up the Covid-19 vaccine inventory with the steady arrival of larger shipments of government-procured and donated vaccine supplies.
"We are very happy with the developments in our vaccine acquisition efforts especially with the recent deliveries," National Task Force Against Covid-19 chief implementer and vaccine czar Secretary Carlito Galvez Jr. said.
"This is a testament of our collective effort -- from the national government, the local government units, the private sector, and the global community -- in securing much-needed doses for our people," Galvez added.
Of the more than 9.58 million doses delivered last week, 6.65 million combined doses of Sinovac, Pfizer, Moderna and Sputnik V vaccines were procured by the national government, 909,400 doses of AstraZeneca and Moderna vaccines were purchased by the private sector and local government units (LGUs), and 2.02 million doses were donations through the COVAX Facility.
"We are now beginning to reap the benefits of having a forward-looking and sustainable plan in our vaccine procurement. We will continue to negotiate and hopefully sustain this bulk allocation and delivery schedule in the coming weeks," Galvez said.
He earlier announced that more than 34 million doses are expected to be delivered this month from various sources and manufacturers. Of this number, 13,041,410 doses have been delivered.
Sustaining bulk deliveries
Vaccine manufacturers and the national government are in talks to scale up the country's monthly allocation beginning this month, Galvez bared.
Despite most of the supply contracts indicating that the volume of the Philippines' orders will be shipped in the fourth quarter, the NTF continued to engage with the manufacturers as part of its aggressive efforts to secure additional vaccine doses.
"We are grateful to our embassies and our consular offices around the globe for their hard work and determination to help our country access and secure the 30 million doses that we need monthly," he said.
As of Sept. 19, a total of 41,414,015 jabs have been administered nationwide. Fully protected persons are now at 18,560,409 or 24.06 percent of the country's 77 million target population.
More than 22.85 million vaccine doses have been administered as the first shot.
In the National Capital Region, 84.47 percent of its target population have received at least one dose, while 66.3 percent have been fully inoculated.
Other areas throughout the country have started to scale up their vaccine rollout since the national government implemented its recalibrated vaccine deployment strategy, where the bulk of the allocations are deployed to provinces and regions with a high number of cases.
The Cordillera Administrative Region has now fully vaccinated 26.64 percent of its target population. Region 11 has completely inoculated 22.40 percent of its residents, while Region 4-A (Calabarzon) and Region 7 have respectively fully vaccinated 21.35 percent and 20.85 percent of their populations, data from the National Vaccination Operations Center showed.
"The latest vaccine deliveries will continue to be deployed to the regions and provinces across the country as part of our efforts to fully vaccinate the Filipino people," Galvez said. (PR)