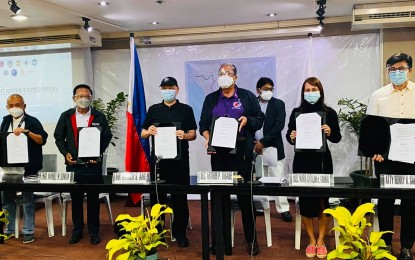 MANILA – A six-lane elevated expressway traversing the length of the Pasig River will soon be built after the signing of the supplemental toll operations agreement (STOA) of the project between national government officials and partners in the private sector.
During a virtual presser on Tuesday, the STOA for the Pasig River Expressway (PAREx) was signed between Toll Regulatory Board (TRB) Executive Director Alvin Carullo, Department of Public Works and Highways (DPWH) Undersecretary Cathy Cabral, San Miguel President and COO Ramon Ang, and Philippine National Construction Corporation Assistant Vice President for Legal Henry Salazar.
Carullo said the PAREx will be about 19.365 kilometers long and will begin at the borders of San Nicolas and Intramuros in Manila to Taytay, Rizal, with entry and exit points placed "strategically" to connect it to other main thoroughfares in the National Capital Region (NCR).
"As part of the STOA, the project is considered an extension or linkage between Skyway Stage 3 and the C6 project," he said.
The project, he said, includes the financing, design, construction, operation, maintenance of the toll expressway and consists of three segments.
The first 5.740-km segment will cover R10 to Skyway Stage 3 to Plaza Azul while the second 7.325-km section will stretch from Skyway Stage 3, San Juan River, to C5, and the third 6.3 km segment will be from C5 to Southeast Metro Manila Expressway, also known as C-6 Expressway.
"It has a franchise period of 30 consecutive years--commencing from the issuance of the toll operations certificate. And the construction period is for 36 consecutive months counted from the issuance of the notice to proceed with a 12-month grace period," Carullo said.
The project cost is estimated at PHP81.527 billion with a "project reasonable rate of return" of 9.87 percent.
In a Facebook post, Department of Transportation Secretary Arthur Tugade said the PAREx aims to address traffic congestion from the East to West of NCR.
"It is also set to provide a faster and alternative access to Makati, Ortigas, and Bonifacio Global City," Tugade said.
'First hybrid highway'
In a separate statement, Ang said the agreement would bring about the country's first "green, hybrid highway and the future of urban transport."
"PAREx will not only decongest traffic, it will greatly improve the way we move around Metro Manila. It will be designed to accommodate motor vehicles, a bus rapid transit system, bicycles, pedestrians, and water ferries," Ang said.
In addition, he said his company is "fully committed" to a PHP2 billion rehabilitation initiative for the Pasig River.
"PAREx will address not only the present needs of both people and the environment but also the future needs of generations to come," Ang said. (PNA)