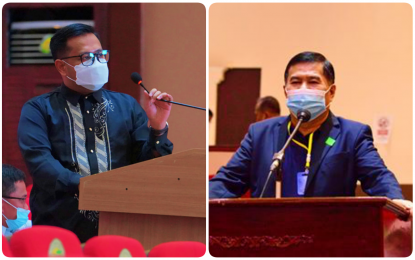 COTABATO CITY – To provide the people of Tawi-Tawi greater access to health services, a group of lawmakers in the Bangsamoro Autonomous Region in Muslim Mindanao (BARMM) filed a bill establishing a health facility in the island town of Sitangkai.
Another regional legislator also filed a separate bill upgrading the Balindong Municipal Hospital (BMH) in Lanao del Sur to address the rising demand for health services.
Two bills were filed before the Bangsamoro Transition Authority (BTA) parliament on Wednesday.
The Parliament Bill (P.B.) 128, creating a general hospital in Sitangkai, Tawi-Tawi, was introduced on first reading.
Currently, only the Alawadin T. Bandon Sr. Municipal Hospital is operating in Sitangkai.
On the other hand, P.B. 102, which seeks to upgrade the existing BMH in Lanao del Sur from its present 10-bed capacity to a 50-bed capacity district hospital, was presented on second reading and referred to committees on health and finance, budget, and management.
Members of Parliament (MPs) Amilbahar Mawallil, Laisa Alamia, Baintan Ampatuan, Don Mustapha Loong, Rasol Mitmug Jr., Suharto Ambolodto, Abraham Burahan, and Sittie Shahara Mastura authored the bill creating a new health facility in Tawi-Tawi.
MP Saffrullah Dipatuan, meanwhile, filed P.B. 102. Sitangkai is one of Tawi-Tawi's most populated island towns.
It is located in the southernmost part of the Philippines, close to Malaysia and Indonesia.
"Providing medical services should be a priority for the Bangsamoro region—especially in Sitangkai," Mawallil said in a statement.
Mawallil said as the Covid-19 virus continues to rise across the BARMM, most hospitals had reached their capacity limit.
The BMH has been obligated to render services that exceed its approved bed capacity.
"This is based on the Ministry of Health (MOH)-BARMM hospital statistics report in 2019," Dipatuan said in a statement.
He said if the existing BMH is upgraded more patients would be catered. To date, more than 12 bills are in the plenary all seeking the improvement and establishment of hospitals within the region.
Aside from passing legislation, the BARMM government provides health assistance to frontline health workers and patients.
The MOH-BARMM had extended various interventions to hospitals that include ambulances, appropriation of cash aids, and distribution of medical supplies such as oxygen tanks, among others, in recent months. (PNA)