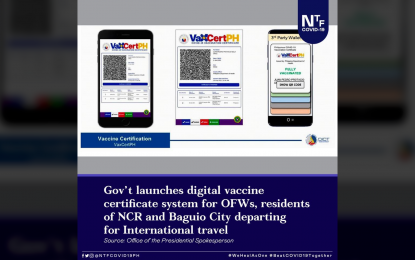 DAVAO CITY – Fully vaccinated Dabawenyos will be able to secure digital vaccination certificates starting September 30 as part of the national government's Covid-19 VaxCertPH program, an official said Tuesday.
In a radio interview, Dr. Michelle Schlosser, Davao City Covid-19 Task Force spokesperson, said after the soft launch of VaxCertPH in Metro Manila and Baguio City, which was initially available only to overseas Filipino workers and foreign travelers, the national government is set to launch it next in other areas, including in this city.
The online portal was developed by the Department of Information and Communications Technology for the Department of Health.
The vaccination certificate can be availed by those planning to travel abroad since countries are now requiring people entering their territory to be fully vaccinated. It will also serve as proof that an individual has completed the required doses.
"Some countries are requiring travelers to be fully vaccinated. That's the main purpose of the certificates. The Davao City Information Technology Center is working closely with the national government to set the launching of the program nationwide before September ends," Schlosser added.
She said the local government units have been tasked to submit the list of vaccinees through the Vaccine Information Management System.
"We would want the online platform to be accessible to the public, traveling or not. It will help address the rampant proliferation of counterfeit vaccination cards as it indicates a unique nine-digit number that stands as the Certificate ID number. It also contains the individual's personal information and the holder's vaccination status," Schlosser added. (PNA)