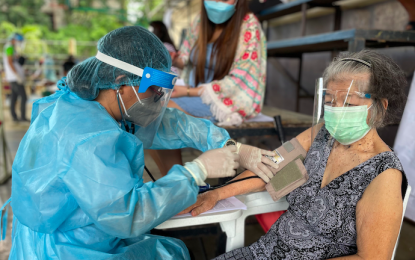 LAOAG CITY – Over 100,000 residents in the province of Ilocos Norte are now fully vaccinated against the coronavirus disease 2019 (Covid-19).
Dr. Josephine Ruedas, provincial health officer, confirmed this on Friday as she reported a total of 101,830 individuals who have received their jabs including the single-dose Janssen vaccine.
"This consists 23 percent of the target eligible population as we hope to vaccinate 70 percent of our total population before the yearend," said Ruedas.
As more vaccines are being dispatched to the province, the Provincial Health Office (PHO), in cooperation with local government units, continues to roll out mass vaccination drives prioritizing senior citizens, persons with comorbidities, as well as land-based and sea-based overseas Filipino workers.
In Piddig town, Mayor Eduardo "Eddie" Guillen spearheaded the mobile vaccination programs particularly in remote villages to reach out to more elderly in getting their jabs.
"It was a challenge at first because people are hesitant of getting the vaccine due to fast spread of false information," said Guillen.
The local chief executive even initiated a reward system -- offering PHP1,000 cash in addition to five up to 20 kilos of rice for every senior resident who receives the first and second doses of vaccine.
But even after being fully vaccinated, health officials emphasized to residents to take into heart the safety protocols as the risk of infection remains.
In view of the decreasing number of infections being recorded daily, Ilocos Norte with a total of 1,347 active cases as of September 23, is now back to a more relaxed general community quarantine (GCQ) until end of this month.
Overall, the province has logged a total of 17,706 cases with 15,992 recoveries and 367 deaths. (PNA)