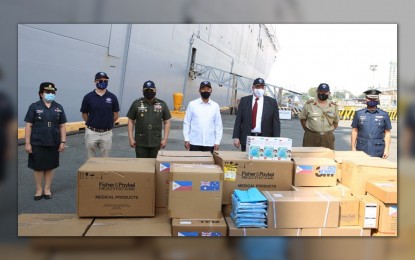 MANILA – The Armed Forces of the Philippines (AFP) received PHP57 million worth of medical equipment, supplies, and personal protective equipment (PPE) from the Australian government during a short ceremony held at Pier 15, Manila South Harbor on Tuesday.
Department of National Defense (DND) Defense Secretary Delfin Lorenzana, AFP Chief of Staff Lt. Gen. Jose Faustino Jr., and AFP Health Service Command head Col. Edgar Cardinoza were on hand to officially receive the donations.
"The turnover of donations from the Australian government is a clear testament of the collaborative partnership that both our respective nations and military forces continue to nurture and sustain, as we aspire to work together in promoting the welfare of our people and country," Faustino said in a statement Wednesday.
Meanwhile, Lorenzana also conveyed the DND's gratitude and appreciation to the country's long-standing strategic partner.
"The Australian government has expanded the coverage of its Defense Cooperation Program to include the pandemic needs of Filipino Soldiers; a gesture that conveys the message that we are not alone in this fight. Certainly, these donations will ramp up the day-to-day clinical management and quality of care and service, which AFP's medical arm is expected to provide," he added.
The equipment and supplies will be turned over to the AFP's primary military hospital, the Victoriano Luna Medical Center (VLMC) to support its coronavirus disease 2019 (Covid-19) response, testing efforts, and capacity for hospitalization of minor to critical patients.
Australian Ambassador to the Philippines Steven Robinson officially handed over the donation to Faustino.
"Throughout this unpredictable Covid-19 pandemic, I am very pleased that Australia is able to provide flexible and responsive support to the Philippines. These additional medical and personal protective equipment will be critical in VLMC's Covid-19 testing efforts, and treatment of Covid-19 patients," Robinson said.
The donated items consisted of high-flow oxygen machines, stretchers, defibrillators, disinfection kits, automated RNA extraction kits, viral RNA extraction kits, RT-PCR reagents and detection kits, face masks, face shields, PPE levels 3 and 4 sets, eye protectors, and KN-95 masks.
This is the third tranche of donations from the Australian government coursed under the mutually agreed Australia-Philippines Enhanced Defense Cooperation Program.
Faustino thanked the Australian government and assured that the donations would be maintained and maximized accordingly.
"Rest assured that we shall do everything in our capacity to ensure that the donated medical equipment and supplies shall be duly maintained and kept in excellent condition, as well as to maximize their use to enhance the provision of medical response within the AFP health care system," he said. (PNA)