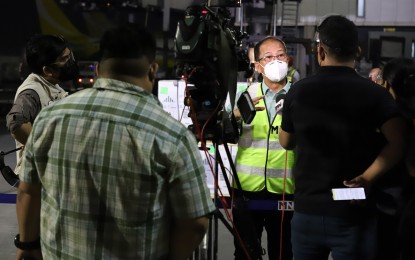 MANILA – The vaccination of children will be piloted in five hospitals across Metro Manila, starting with those who have comorbidity or are dependents of healthcare workers, the National Task Force (NTF) against Covid-19 said Wednesday night.
NTF chief implementer, Secretary Carlito Galvez Jr. said the pilot inoculation will take place at the Philippine Heart Center, the National Children's Hospital, the Philippine General Hospital, and two other medical centers that deal with pediatric comorbidities.
"It will be in October and it will start in NCR. This program will be approved by the IATF (Inter-Agency Task Force)-- the concept-- at tsaka para makita rin ng all experts group (and to allow our all experts group to assess it)," he told reporters upon the arrival of some 391,950 doses of government-procured Pfizer vaccine at the Ninoy Aquino International Airport (NAIA) Terminal 3.
Galvez said the pilot would be done in phases to ensure the safety of children who will be inoculated and it might initially start with minors age 15 to 17.
"[K]ung hanggang 15 to 17 ba tayo (magsisimula) or maybe gawin na nating 12 to 17 i-di-decide pa 'yan, we will decide on that but definitely 'yong parang ginawa natin noong una (Whether we start with 15 to 17 or 12 to 17 we will decide on that but definitely it would be like the initial rollout that we had)," he said.
"We will observe and monitor closely. Remember what we did in March, there were five referral hospitals and we expanded when we saw that there was no adverse effect," he added.
Once the pilot vaccination starts, Galvez said children with comorbidity will be categorized as "additional A3" while dependents of health care workers will be considered under the A1 priority group.
Galvez said the government could vaccinate around 12 million children by October or November as around 15 million doses of Pfizer vaccine and five to seven million doses of Moderna shots will arrive next month.
President Rodrigo Duterte has approved the vaccination of minors, including the adult general population to ramp up the government's vaccine drive against Covid-19.
The country has so far prioritized the vaccination of medical front-liners, senior citizens, individuals with comorbidities, economic front-liners, and the indigent population.
The latest data from the NTF showed that 20,815,925 have already been fully vaccinated while 23,925,816 are waiting for their second doses.
With the shipment of over 391,000 Pfizer shots on Wednesday, the number of vaccine doses the country has received since March 2021 has already hit 70,091,290. (PNA)