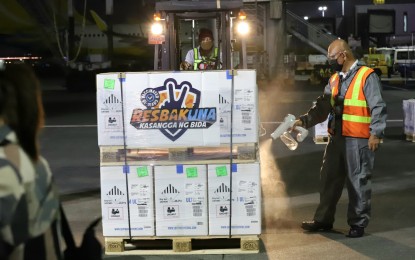 MANILA – Foreign Affairs Secretary Teodoro Locsin Jr. on Thursday said the United States will be sending an additional 5.3 million doses of Pfizer coronavirus disease 2019 (Covid-19) vaccine to the Philippines through the COVAX Facility.
"As I exchanged views w/ Rep. Steve Chabot, Babe Romualdez -- who'd just come in from an Asean meeting with NSC (National Security Council), he whispered to me that the White House told him that 5.3 million doses of Pfizer are coming to us through COVAX," he said referring to Philippine Ambassador to US Jose Manuel Romualdez.
"Thank you, America, thanks, Babe. Running total -- 14.1 million," he added.
Manila has so far received about 9 million doses of Covid-19 vaccine directly donated by the US government as part of President Joe Biden's commitment to helping vaccinate 70 percent of the global population by 2022.
In a virtual forum on Thursday, Romualdez said the US had been a "reliable partner for us" throughout this pandemic, with President Rodrigo Duterte himself extending his gratitude to the Biden administration for extending assistance during these trying times.
"While we are still battling this pandemic, let us not forget that there is more work to be done to ensure that no virus will once again bring the world down to its knees," he said.
"We continue to look to the United States to take the lead in rallying the international community towards a pandemic-free world, and we stand ready to do our part, in partnership with the community of nations, to achieve this objective," he added.
The US has worked closely with Philippine stakeholders throughout the pandemic to support the country's response to Covid-19.
As of September 21, the US government's Covid-19 assistance to the Philippines has already reached USD39 million (approximately PHP1.9 billion). (PNA)