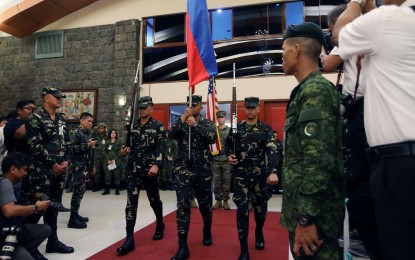 MANILA – The question on whether to revise or not the Philippines' 70-year-old Mutual Defense Treaty (MDT) with the United States is tricky as it has security implications, Department of National Defense (DND) Secretary Delfin Lorenzana said Thursday,
"I go back to my previous question, is the MDT still relevant or does it need to be appropriated, replaced, or revised? This question is tricky as it has implications for the security of both parties and individually," he said during an online Stratbase ADR Institute for Strategic and International Studies forum titled "70 Years of the 1951 Philippine-US Mutual Defense Treaty".
Lorenzana also admitted that while the US is open to the idea of revisiting the MDT, an outside party is not.
"When I first brought up the idea of revisiting the MDT, a former Chinese ambassador came to me and said, please do not touch the MDT, leave it as it is. But the more important question is, how does the MDT fit in with the current situation in the region?" he said.
Signed on Aug. 30, 1951, the MDT is an accord that stipulates that the Philippines and the US would support each other if either of them were to be attacked by an external party.
Also, Lorenzana noted that the US has bilateral arrangements with other Asean countries, Japan, South Korea, Australia, and New Zealand, and to some extent with Taiwan and asked whether such arrangements are better than multilateral ones.
"Are bilateral agreements better than multilateral ones? Is it time to create a NATO-like arrangement? Not to prepare for war but to address the concerns previously enumerated. How does the newly formed alliance AUKUS (Australia, the United Kingdom, and the United States) fit into the large picture, will it contribute to peace and stability, or exacerbate current problems?" Lorenzana pointed out.
And at the micro-level, the DND chief said smaller countries will have to find a way to manage the relationship with China as it has disputes with most nations in the region.
"How would disputes in the South China Sea play out? What is the end game? President Xi Jin Ping during his last bilateral meeting with President Duterte said, in his words, 'after the latter invoked the arbitral ruling'. And I quote, 'Mr. President...I do not think we will resolve this issue in our lifetime, maybe our children or our grandchildren will have better solutions'. These words speak volumes on China's strategy on the South China Sea," he added.
Lorenzana said many proposals were brought forward, such as joint management in the area, joint development of its resources, and turning it into a global commons, among others.
"But one thing is clear, the Chinese, having embedded themselves with the artificial islands, are not in a hurry for any resolution that is not in its favor. How do other states deal with this strategy?" he added. (PNA)