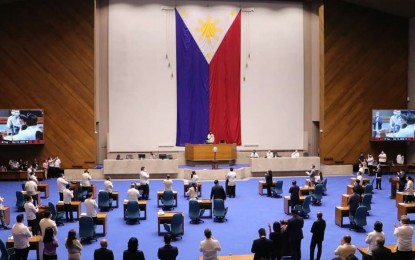 MANILA – The House of Representatives on Thursday night adopted a resolution urging the Department of Education (DepEd) to exercise scholastic leniency to students of the K to 12 basic education program for School Year (SY) 2020-2021 by giving them an automatic passing mark.
The chamber adopted House Resolution 2267, which aims to protect the students' health and well-being in light of the abrupt changes in education services delivery that had to be undertaken during the coronavirus disease 2019 (Covid-19) pandemic.
The resolution said the serious threat posed by the pandemic, the troubling consequences of the quarantine measures, and other series of calamities during SY 2020-2021 have resulted in "challenges that have affected or compromised" the health and well-being of both teachers and students.
It also noted that online classes have presented teachers and students with new sources of stress due to the lack of proper devices, unstable Internet connection, and other technical glitches.
Aside from these, the resolution said the "physically challenging" blended learning mode being implemented by the DepEd requires teachers to distribute printed learning modules among students and collect them on the last school day of the week.
"The current school setup has served to exacerbate the stress caused by the massive destruction that resulted from these natural calamities and has heightened fears and anxieties among students and their families," it said.
It said the scholastic leniency should be accorded to all students currently enrolled in the K to 12 program to "ease the burdens of students and protect their mental health and well-being". (PNA)